A few months back, Elizabeth, the managing editor of one of our most popular local magazines, asked me if I'd be willing to be photographed for their fall home and garden issue.  I said no…just kidding, I jumped at the chance.  I've been a huge fan of Little Black Dress/Little Red Wagon for a long time now.
Here is their mission statement.  "Little Black Dress/Little Red Wagon seeks to inspire women to lead whole, authentic lives, balancing the creativity, playfulness and unabashed love of being a mom with the individuality, femininity and strength of being a woman. We believe that joy comes from both pulling that little red wagon, donning that little black dress…and all the moments in between."
Don't you love that last part?  It really does speak to me and I know it will to many of you as well.  I am completely honored to be a small part of this publication.  Now, on to the best part.
The back cover of the issue is me and my girls!  I know I'm totally biased, but aren't they the cutest?
They even let Eric get in on the fun.
Love this one.  They're each telling me a secret.
If you'd like to read the article, feel free to click over to LBD/LRW.  I discuss my appearance on HGTV's Design Wars, my non profit work with Room Service Atlanta and offer a few design tips as well.  Believe it or not, there are a few more photos as well, if you're not too tired of looking at my mug yet!!
I've got one more trick up my sleeve today.  Remember this?
How about this?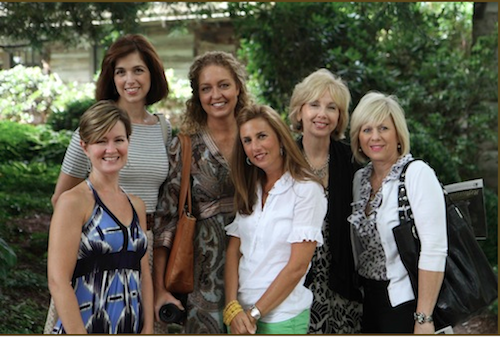 This is our fabulous blogger getaway to the Cashiers, NC show house last year.  The 1st photo is the breathtaking view from Angela's gorgeous cottage in nearby Waynesville.  Now, for the good part.  A stay at the cottage and a trip to this year's show house can be yours as well.  Click here to view the dates and special pricing.  Get the girls together and take a trip.  You won't regret it!