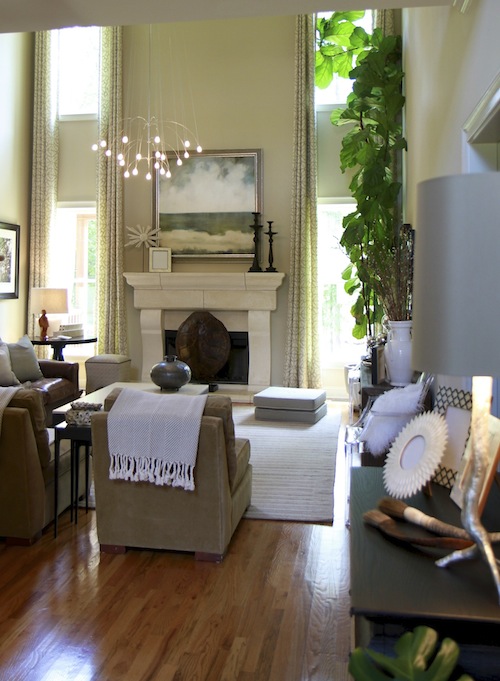 Remember this space?  I finished this client's family room last month.  Over the next few weeks, I'm going to share helpful hints from this design that you can use in your own home.   Today, let's talk about one of my client's favorite additions to the room.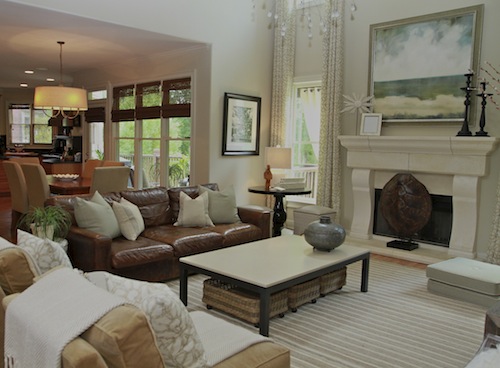 Can you guess what it is?  Well, I guess the title of the post kind of gives it away.  It's the rolling baskets under the coffee table.  This is a family room, so we wanted this to work for each member of the family.  The kids love to play in the space to be near mom and dad.  The only problem is the crazy amount of toys that end up taking over every open space.  Imagine this same space with legos and polly pockets on every surface. My solution was to add the rolling baskets.  At the end of the day, the kids can roll out the baskets and quickly clean up all the toys.  Another bonus is that it's easy for them to do all by themselves and that's good for them and for the rest of the family.
Baskets can be an economical way to add stylish storage to your home.  Let's look at a few other ways to use baskets for storage.
The entry.  Baskets with lids can be a lifesaver.  They can hold all the things that you don't to be seen by everyone entering your home.
More lidded baskets.  These could be perfect in a playroom or little boys room.  Baskets are a great replacement for big bulky toy boxes.
Use baskets in your office to hold unusually sized items or for trash bins.
Baskets under your bed are the perfect place to store blankets, off season clothing and toys.
These baskets are a colorful option for towels and magazines next to the pool.  Remember that there are basket options in outdoor weaves just like indoor/outdoor rugs.  They can soften your outdoor space and make it feel more like a extension of your home.
Don't forget your plants.  When your baskets aren't holding your books, throws or toys, they can be used to create a beautiful centerpiece with flowers and plants.
Finally, small baskets can be used to hold bathroom items, jewelry or other accessories.
How do you use baskets in your home?  Send me your basket photos and I'll share them with my next post in the series.
Don't forget to like my new Facebook page.  That's where you'll find my most recent posts, photos from my shopping trips and decorating tips everyone can use.