Now I realize this may seem a bit odd that I am soooo excited about a few shelves, but let me tell you that for the past few weeks, I've been working in chaos.  (Who am I kidding, it always seems to be chaos around here, but this was beyond chaos even for me!)  So, after debating what to do first in my new office, paint? furniture? window treatments? I decided to go a different route.  Storage!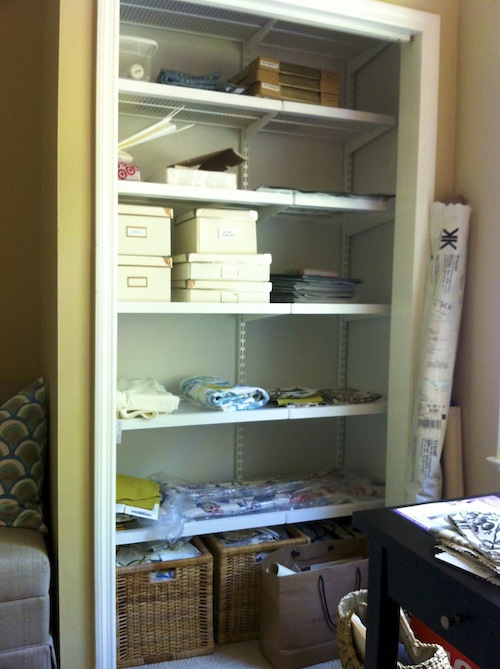 After a painless trip to the Container Store, JD arrived this morning to install these beauties in my office and in Kate's closet upstairs (more on that later).  Yes, we did pay extra to have them installed, but before you judge, know that it's these small things that keep my marriage in tact.  It took JD 4 hours of silent construction to install everything.  Let's just say, it would have taken much longer for Eric and I to do this together and it would not have been pleasant or silent.
Now, as I sit here writing this post, for just a moment, all is right with the world.  No, everything is not in the correct spot and there's a ton left to do, but for just this moment, life seems a bit less daunting and I feel that ever fleeting calm.
And all it took was a few white shelves.  🙂