This image showed up in my inbox a few days ago and I have been obsessed with tapes and trims ever since.  These fabulous options are from Mary McDonald's new line for Schumacher.  I've always known that you can dress up your window treatments with beautiful tapes, but it seems like I am seeing them everywhere lately.  Let's look at a few ways you can dress up custom or ready made window treatments.
Another look at Mary McDonald's line.  She used a very wide trim here, but what a dramatic touch it adds to those beautiful orange panels.
This is a much more simple look.  Many of us use solid panels.  Adding a simple solid trim in a pattern dresses them up nicely.
Love how the trim finishes off the edges of these ikat panels.  Can you see how the trim pattern brings out the antique bronze of the table and the lantern?  It's a subtle detail that makes a big difference in the space.
Another dramatic look.  Plain white panels would not have had the same impact in this room.
This is what most of us think of when we think about adding trim to panels.  The trim can be sewn on like these or…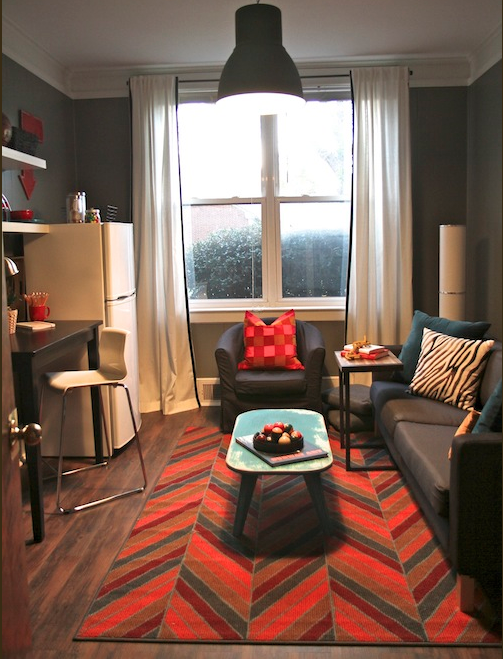 …glued on.  I used fabric glue, black grosgrain ribbon and ready made panels from Ikea to create these window treatments for our last Room Service project.  It was so easy and added a nice detail to the white panels.
Trims can also be used on Roman blinds.  I love the light trim on the dark fabric.
This trim adds a traditional flair to an otherwise non-traditional color palette.
Finally, trims and tapes are not just for window treatments, added to this tufted linen ottoman and you have a completely custom look.
I hope you have gotten a few good ideas that you can use in your own projects.  I'm already thinking of how I can use trims in my own home!