The show house install is going well and Sherry and I have both recovered from our bout with food poisoning last week.  If you want to read more about that head over to Sherry's blog.  (Hint, she is much more of a sharer than I am and her story is hilarious.)  If you follow us on instagram, you know that we have been enjoying a few yummy lunches during our time working on the Inspiration House.  Well, I guess we enjoyed it a little too much last week!
Before we get too far into 2013, there are two events that I'd like to share with you from last month.  While very different, these two events capped off 2012 for me both in my business and my personal life.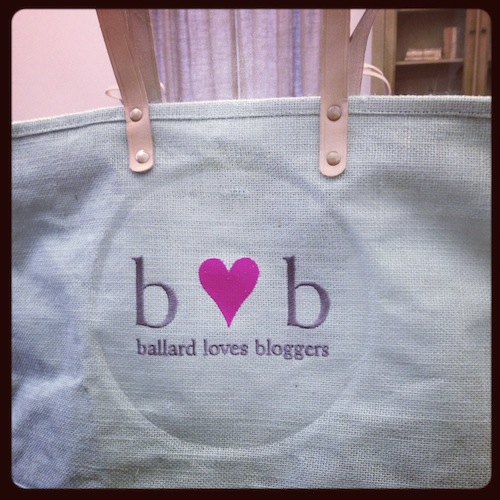 In early December, I was invited along with several other bloggers from around the country to spend the day at the Ballard Designs headquarters here in Atlanta.  Our fabulous hosts treated us to a wonderful dinner the night before and the next day was spent with the staff learning the ins and outs of Ballard Designs.  I was so impressed with how interested they were in the blogger perspective.  As many of you know, this has not always been the case with businesses in the past.  Many of them have been fearful to let bloggers in, afraid that secrets might be given away, I suppose.  Ballard understands and is embracing the value of today's blogger as an asset to their business.  I am already a loyal customer and look forward to partnering with them in the future.
Now, on to our day!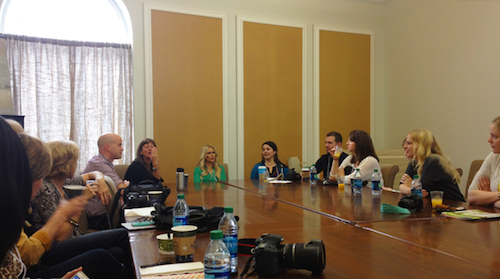 We started off with general discussions about business and how Ballard approaches their customer (They call her Elizabeth.).  Our group was comprised of both full time DIY bloggers as well as interior designer bloggers like myself.  After some back and forth, we headed out on a tour.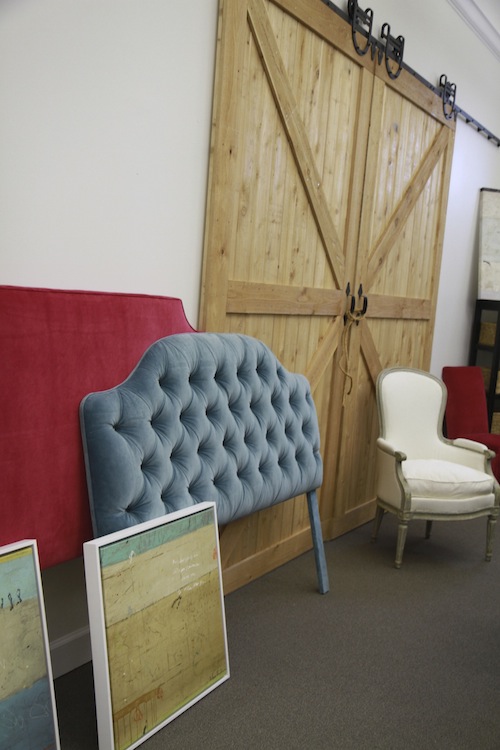 This is the other side of the conference room where we were seated.  I love all the color that Ballard is introducing for spring.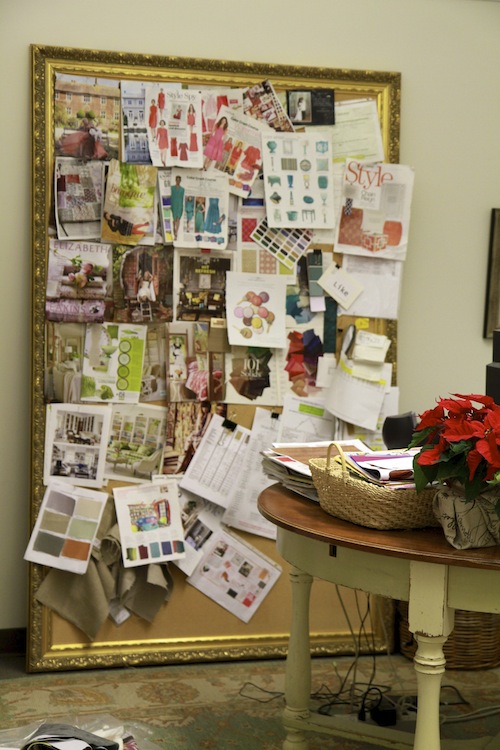 The hallways were lined with bulletin boards covered in inspiration photos.  Definitely my kind of place!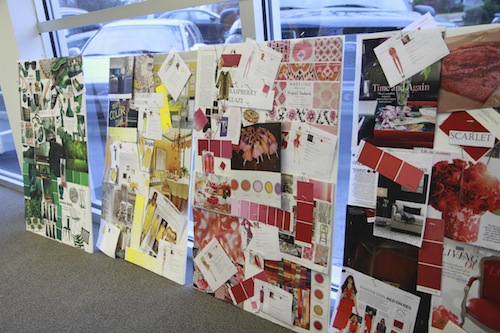 A shot of a few of the many color inspiration boards in the office.  Emerald green was already on their radar before Pantone voted it the color of the year!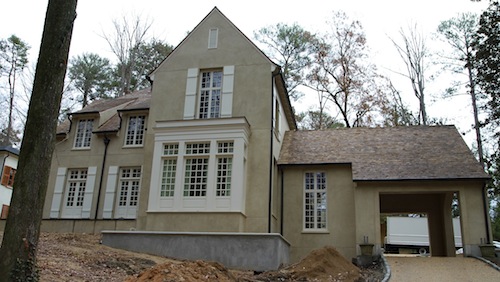 After the tour we were taken here to see first hand one of the spring 2013 photo shoots.  The outside wasn't complete, but the inside…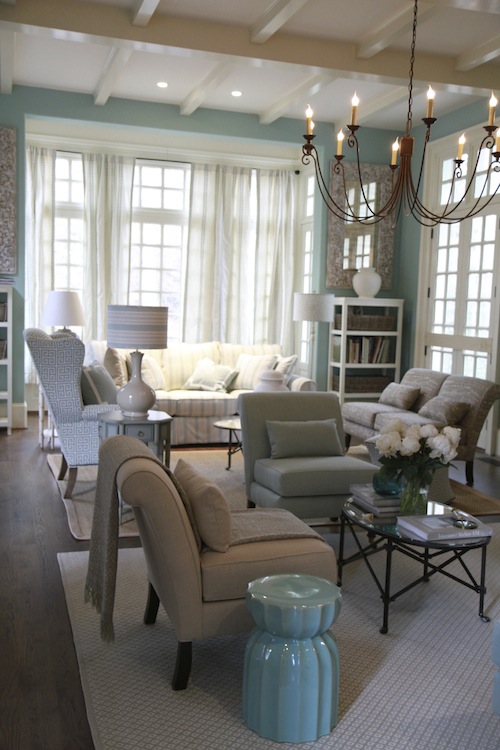 …was gorgeous after Jill Sharp Brinson, Ballard's Creative Director, got her hands on it.  This home was gorgeous, but once it had been given that Ballard touch, it was stunning.  Can you see how the silver sage color of a year ago has deepened into this soft turquoise?  So pretty.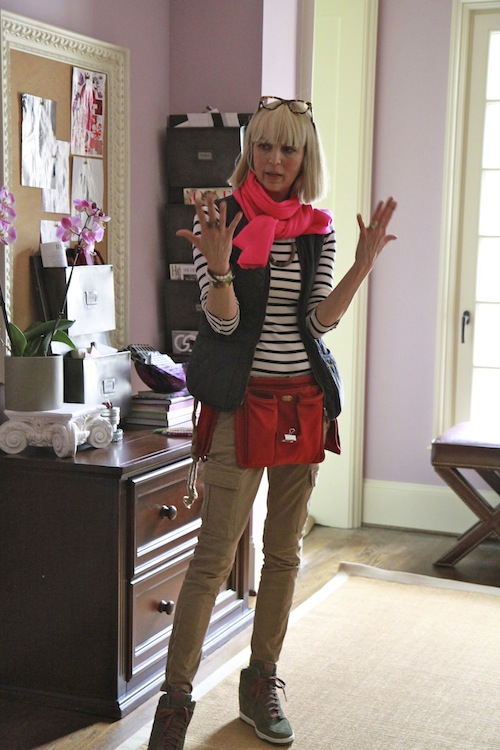 This is Jill explaining how the catalog shoot process works.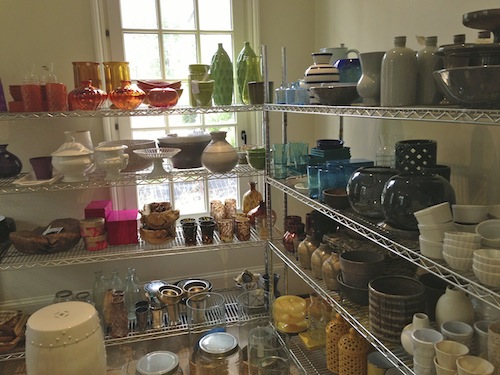 The crew spends up to a month on one shoot.  They bring in truck loads of furniture and accessories.  Shopping areas are set up within the home, so that items are easily accessible during the shoot.  Can you imagine having all this at your disposal to choose from whenever you decided you wanted a different look in your home??  And this is just the glassware!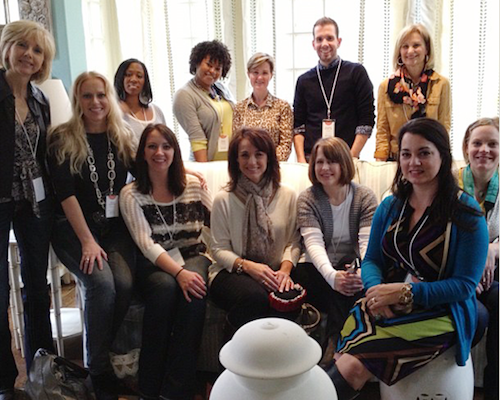 Before we headed back, we were able to get a group shot.  Such a fun and informative day.  Thank you Ballard Designs!
A couple weeks later I was thrilled to attend a gathering with fellow bloggers, designers and industry friends at our friend Lisa Gabrielson's home.  Little did I know, I would be treated to Lisa's amazing home as well.  Take a look!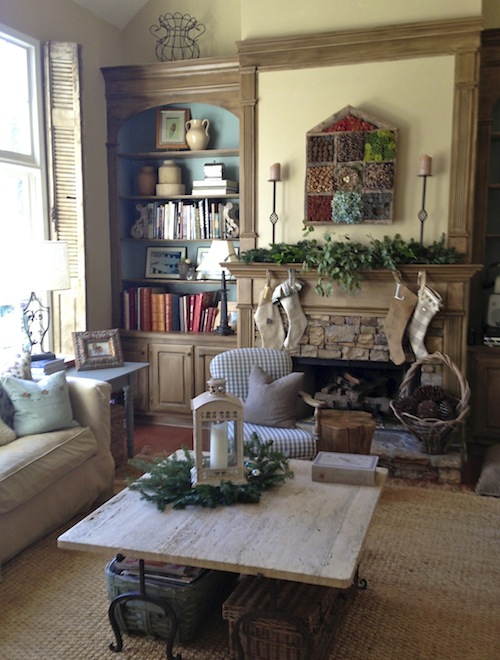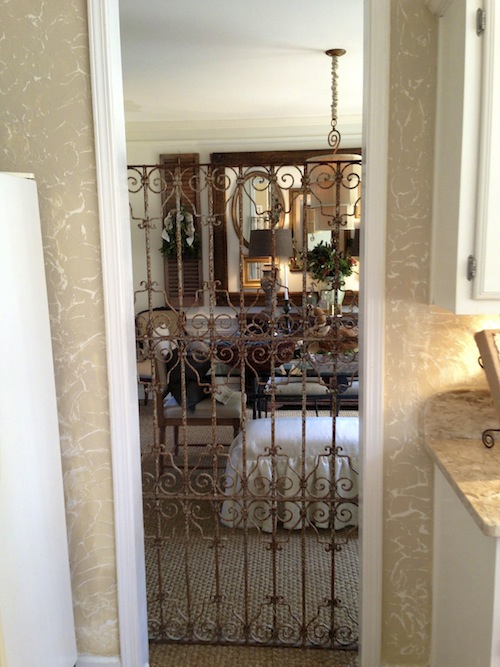 Love this shot!  Lisa uses this gate to keep her dog out of the dining room.  That's a lot better than a baby gate, wouldn't you say?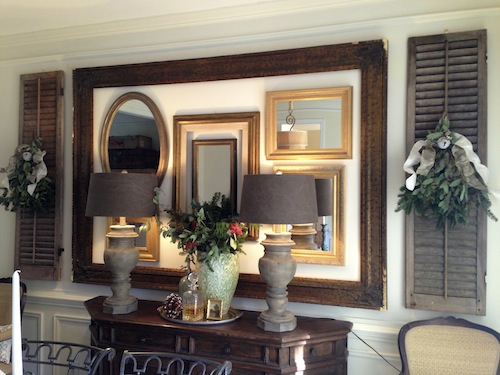 The dining room wall.  What a beautiful way to accessorize a large wall!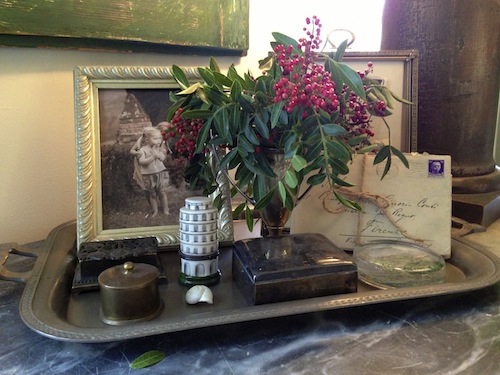 One of my favorite things about Lisa's home is her attention to detail.  There is a lovely personal touch to every space, even the smallest area.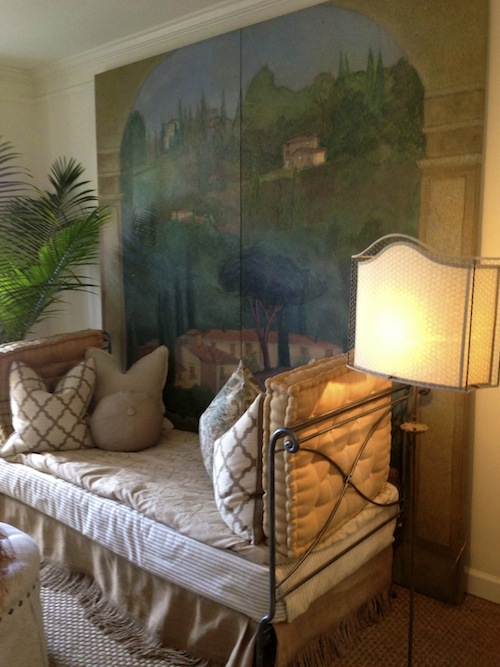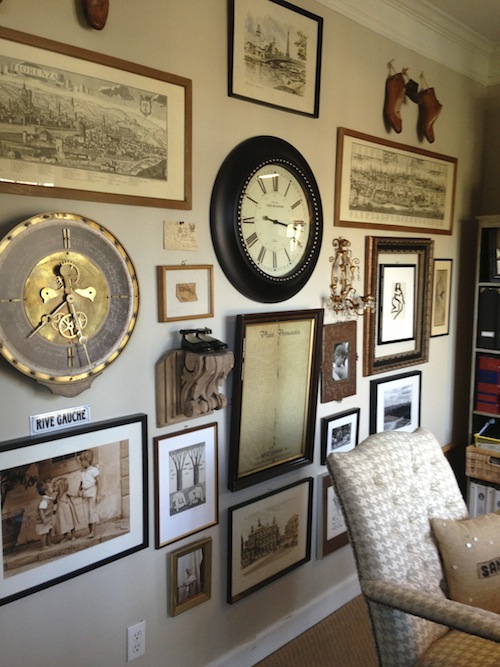 The gallery wall in Lisa's office.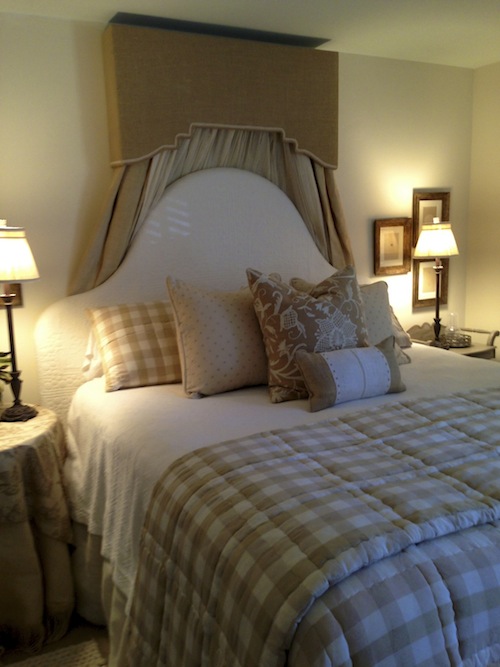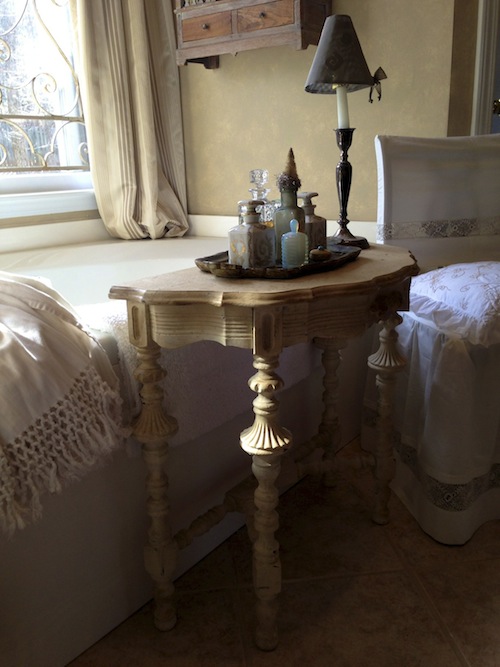 Lisa placed this beautiful table in front of her master bath tub.  I thought this was a genius idea.  The space in front of the tub is never that interesting.  She created a gorgeous vignette that draws your eye to the vintage bottles instead of the tub.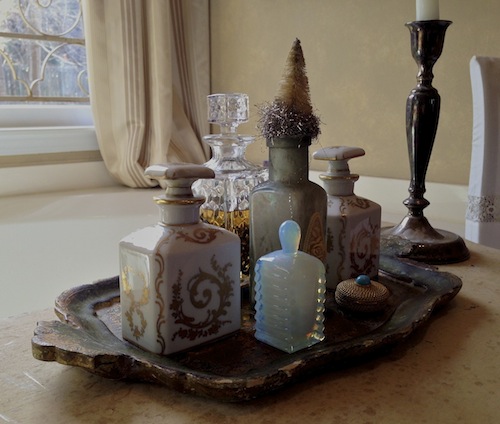 Closeup of the vintage bottles.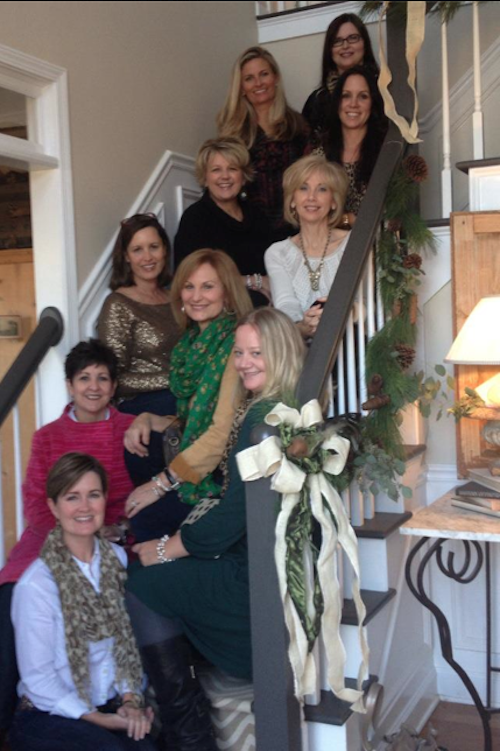 Along with visiting Lisa's amazing home, the best part was visiting with all of these lovely ladies.  I know I've said this before, but these women are the best, most supportive friends anyone could have.  What a wonderful day!
UPDATE:  So happy to report that Lisa's home was photographed last week for The Cottage Journal's 2013 Christmas book-azine!  Congrats Lisa!