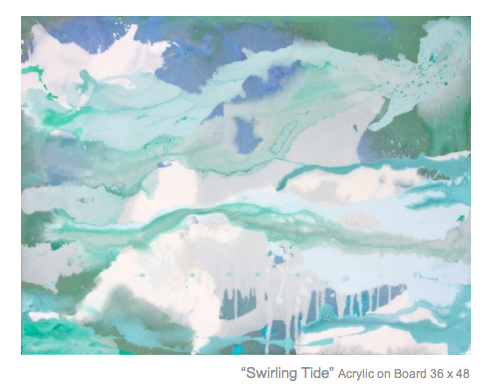 Today I want to share with you my latest dk Gallery artist crush.  My mom was in town recently and as always dk Gallery was one of our first stops.  As we walked in, we were met by the beautiful paintings of Katie Robinson.  They were so new to the gallery that they were still sitting on the floor.  Of course, we had no intention of actually buying artwork that day, but we were both mesmerized by Katie's work.  My mom and I both decided to each take a piece home to see it in our own spaces.  This is always a must when making an investment in original artwork.  You can love it to pieces in the gallery, but once you get it home, it may not give you that same feeling.  To me, artwork is all about emotion.  How does it make you feel?  What does it make you remember?  Who does it remind you of?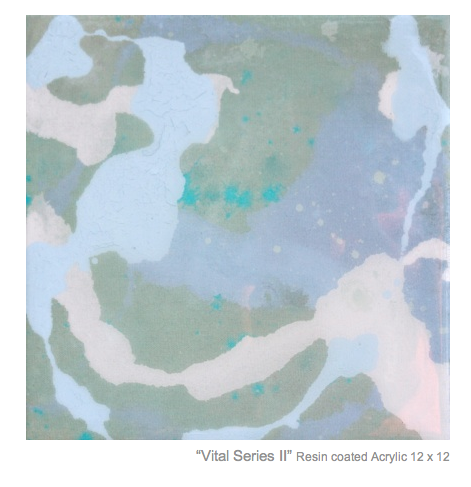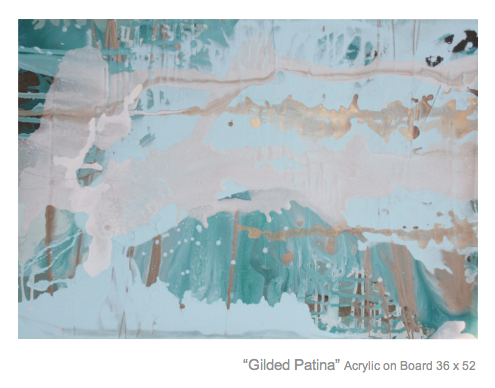 Here are a few more of Katie Robinson's pieces.  You can find her on Facebook, her own website, as well as dk Gallery's website.  Her pieces have an ethereal, soothing quality.  Many pieces have a touch of metallic and a wash of acrylic that makes them feel at home in a beach side retreat as well as the most contemporary of homes.
Here is what Katie says about her work, "I like to observe color in different settings, take a mental snapshot, and then make the colors come alive again on the canvas-in no particular order. I find color inspiration in textiles, fashion, and nature. My goal with each painting is to try not to manipulate it at any point in the process. Someone once described my art as a happy accident. I take that as a compliment!"
I love the idea of art being a happy accident.  Katie's artwork gives me a calm feeling and makes me smile.  What a wonderful happy accident!
After my mom was able to see her piece over her bed in the master bedroom, she had to have it.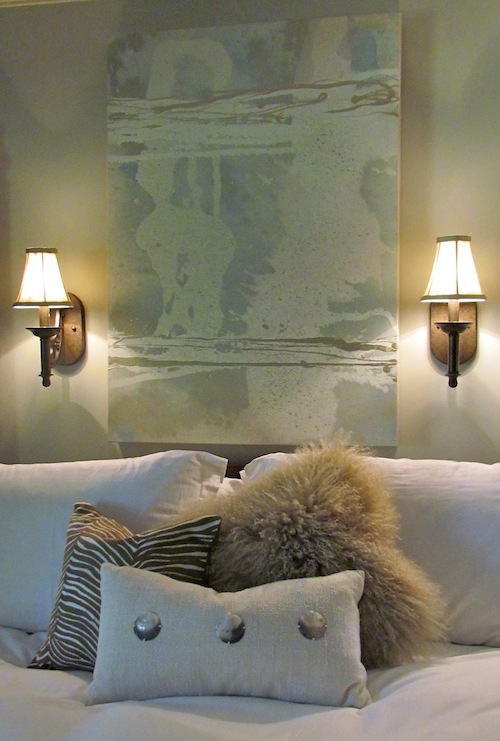 This piece does not have the acrylic wash, so the texture is much softer.  (I apologize for the grainy photo.  Unfortunately, I forgot my regular camera.)  The colors and tones of this piece are perfectly in sync with the neutral palette and splash of blue in my parent's master bedroom.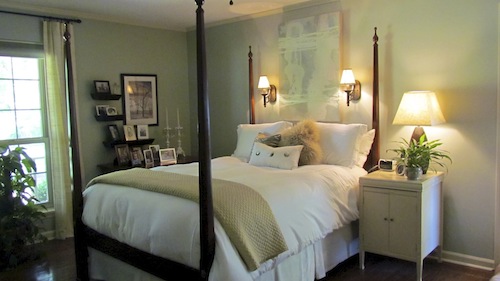 This photo does not do the artwork or this room any justice what so ever.  The blues of the space were completely washed away.  Just imagine the walls in a cool blue and the painting coordinating perfectly.  (I'll be sure to take more photos with the fancy camera next time.)
To see more of Katie Robinson's work be sure to visit dk Gallery.  If you're not in town, you can visit them online as well, although I highly recommend an in person visit if you're able.  I'll be happy to meet you there and introduce you to a few more of my artist crushes.  There are many.
What do you think I decided to do?  Could I live without my own Katie Robinson piece?  More to come on my latest artist crush…