One of the on the job hazards of being an interior decorator is seeing beautiful things on a daily basis.  Now, you might think, "why would this be a problem?  I wish I could spend my days researching the newest fabrics and the latest trends".  Well, friends, it is wonderful, I'm not going to lie.  Unless, I'm trying to make changes to my own home.  It's even more difficult with the advent of Houzz and Pinterest.  I can find 100's of jaw dropping images on a daily basis.  Let's take a look at a few of my favorites.
This photo represents my love of texture and neutrals.
Can you see my dilemma?  All of these images, while beautiful, are quite different from each other.  A few are more modern, a couple more casual and then a more formal traditional space thrown in as well.  Does this happen to you?  When you look back at the magazine pictures you've pulled, your Pinterest boards or your Houzz idea books, are they all one style and one color palette?  Or, like me, do they tend to be several different styles and looks?  This is where people, even interior decorators, get frustrated and feel overwhelmed.  I see it almost every time I meet with a new client.  That's why they end up calling me.  I have no trouble sorting through their images and finding their true style.  My own true design style, however, is much more difficult to pin down, because I love so many different styles.  It's not practical to change rooms in my home every few months.  On the other hand, I want a consistent style throughout my home.  I don't want each room to feel completely different from the others.
So, what's a frustrated decorator or homeowner to do?  Here are the 3 easy steps that you can use to find your own design style.
1)  Collect-Pull together images of things you love. How do you know you love it?  You shouldn't even have to ask yourself.  If there's a moments hesitation, then put it away.  Something you love should overwhelm you instantly with good emotions and perhaps even memories.  Remember this is how you want your space to feel, so you should get that feeling when you look at your images.  As I mentioned before, use Pinterest and Houzz to collect your images.  If you're not on Pinterest yet, leave a comment and I'll be happy to send you an invite.
2)  Curate and Evaluate-Once you've pulled together your images, sort through them once more and throw out any that don't truly speak to you.  Look at the similarities between the images.  As I did this, I was reminded of my love of texture, neutrals and pops of color.  Even though these pictures are different styles, those three things remain constant.  I also love a bit of a modern touch in my spaces.  These are things I've known for some time about my design style, but this exercise puts me back on track in my own home.  What do you see in your photos?  A similar color palette?  A love of painted furniture?  A bit of sparkle?  Pay attention to these things.  Make notes about which paint colors, furniture styles and accessories you love.  This will keep you on track when you're decorating your space.
This photo represents my love of texture and neutrals.
Pops of citrine are what draw me to this image.  It is more modern than the image above, but it still has that fabulous texture that I love.
3)  Prepare a design board-Stay with me here.  This does not have to be difficult.  It doesn't even have to be on a board.  It can be a file folder, a plastic tote or a file on your computer.  It should be what works for you.  The goal of the design "board" is to have something that you can reference while you're out shopping.  This will prevent you from making expensive design mistakes.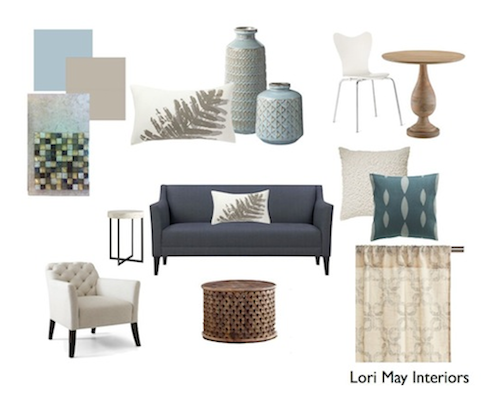 This is a design board I created for a downtown loft project.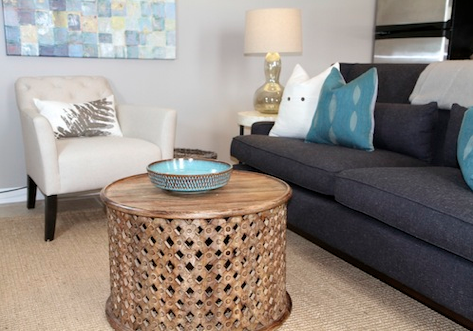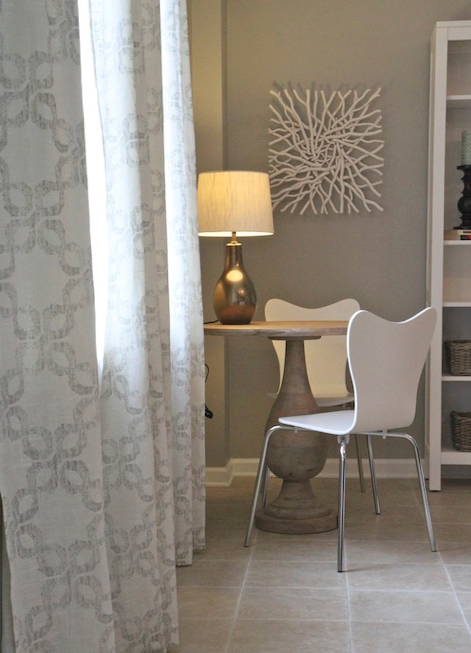 Two of the after photos.  Can you see how I used the design board to keep my plan organized?  The final project ended up very close to the actual design board, but that is not always the case.  Use your design board for inspiration.  For example, if you see a lamp that you love and it is similar to the lamp on your design board, then you can feel comfortable that it will work well with your design plan.
Follow these 3 easy steps and you will find it much easier to discover you're own design style.  Once your design style is in place, you will be well on your way to creating a space that you love.
If you still feel that the process is too overwhelming, contact me.  I will work directly with you to create a design plan that is perfect for your space.