Okay, so I have to admit that these photos are from last months Scott's Antique Market.  Since the show, the blog has been neglected very badly and I'm trying to get back into my routine.  So, we'll start here.  Back to my shopping series and next week back to a normal blogging schedule.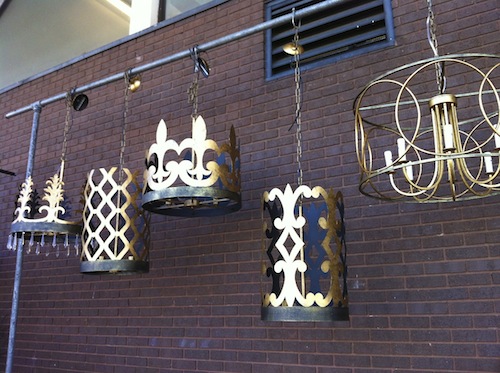 Aren't these gorgeous?  I can imagine using them in so many places.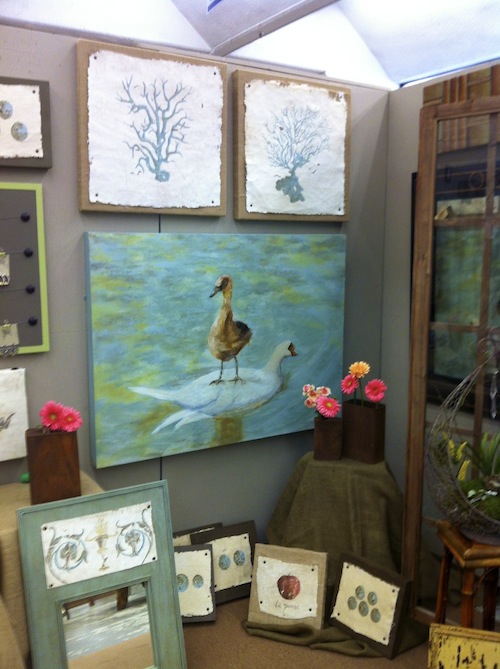 This booth had some very pretty things, not sure about the duck standing on the back of the swan, but the coral paintings were beautiful.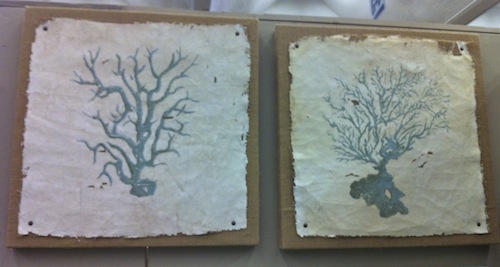 Close up of the coral.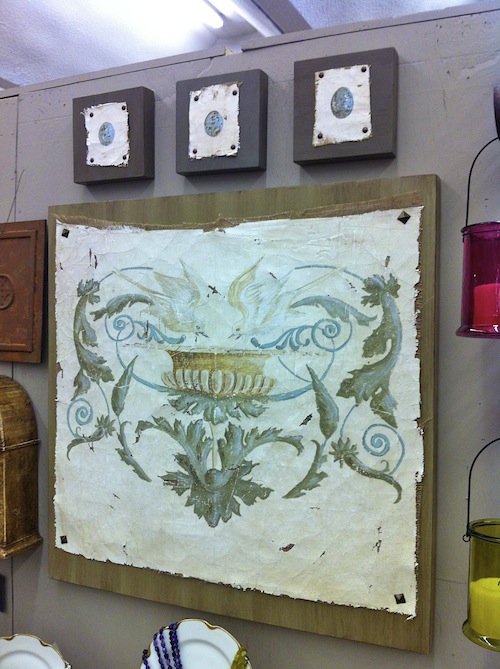 Another option from the same painter.  The images are painted on canvases and then hung onto a piece of wood.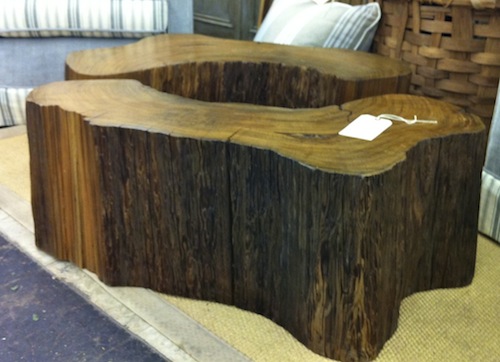 This was an amazing coffee table made by my friend, Lisa's, dad.  The wood came from a submerged tree trunk.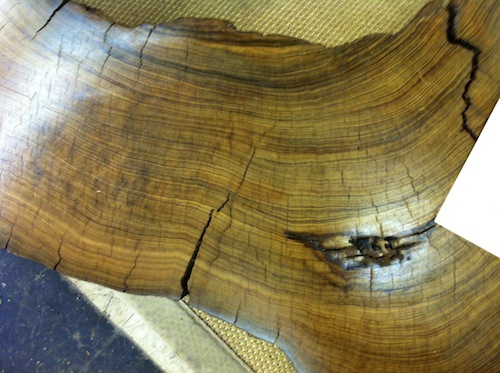 Here's a close up of the top.  See all of the rings.  This tree was seriously old!  I so wish I had a place for this table.  It was exquisite.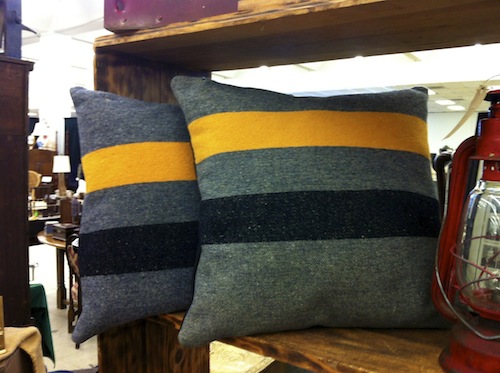 Love these pillows in Kenya's booth.  She and Lisa are both new to Scott's, so if you're there, be sure to stop by and say hello.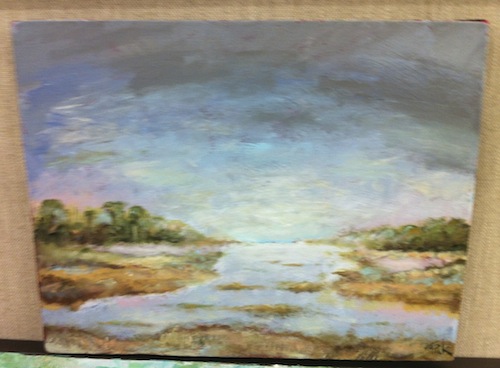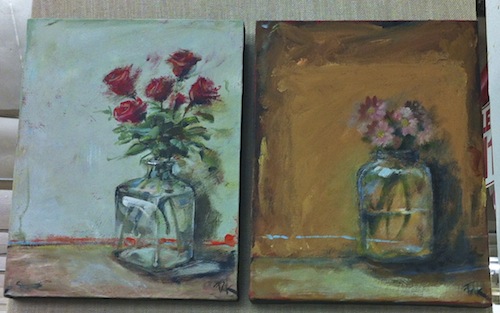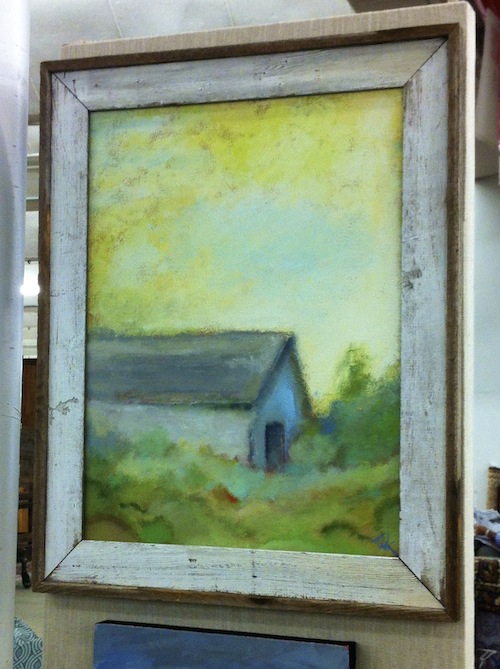 A few more pieces of art.  The colors in all of these pieces were very soothing.  They would work in almost any space.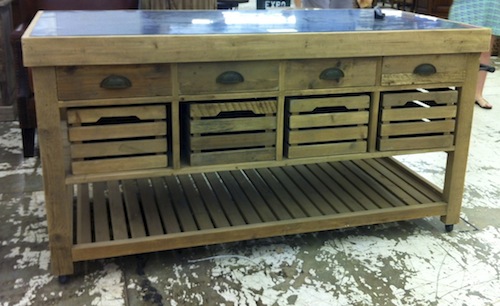 Wouldn't this be great as a kitchen island or maybe a bathroom vanity with vessel sinks?  You could paint numbers on the wooden baskets for each family member.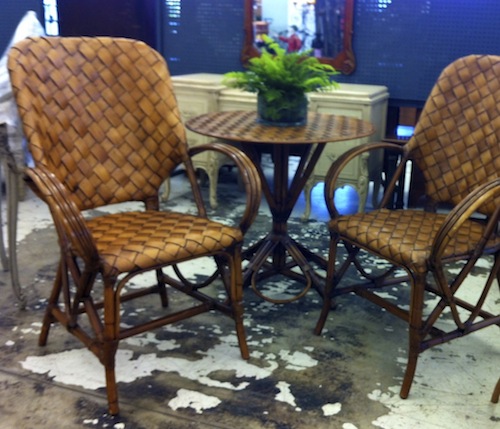 I hate that this image is blurry, but this set would look great on a porch.  The chairs were comfy too.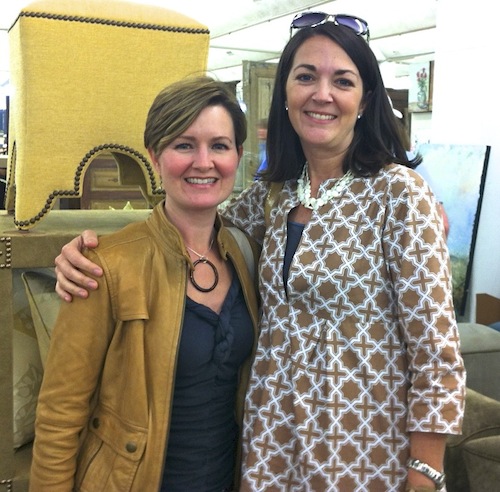 And finally, I always seem to see someone I know at Scott's, but this time, I got to meet a blogger friend in person.  Mandi from Interior Design Musings was visiting from Birmingham with a busload (yes, you read that right, a busload) of her friends.  You can read more about their trip here on Mandi's fabulous blog.  It was great to meet her and I hope to make it over to Birmingham some time soon to check out the shopping scene and meet up with Mandi again.
Okay, that's it for today, friends.  I hope you all have a wonderful weekend.  Happy Mother's day to all of you mom's out there.  Enjoy your day!  You deserve it!
I also want to thank each and everyone of you for taking time out of your day to read my ramblings.  I love this blog and even though I don't get to post as much as I used to, you all mean the world to me!
Thank you!