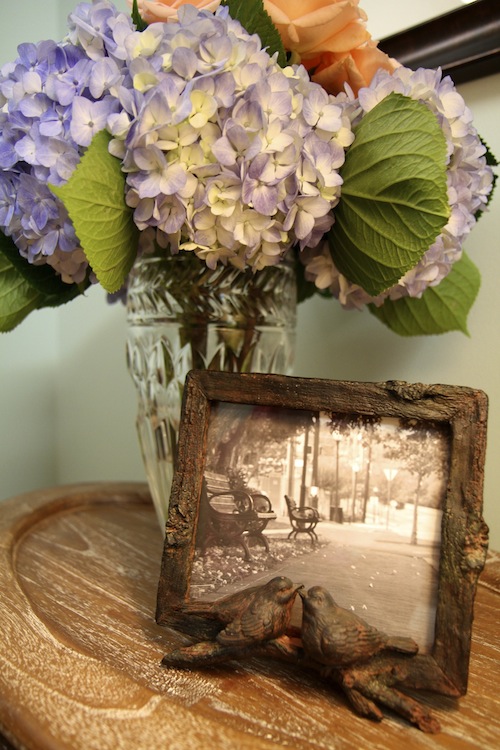 Today, I thought I'd share with you some of the behind the scenes pictures and details from my episode of Design Wars.  If you didn't see the episode on Friday, I'm working to get it downloaded to my website.  Here's the rundown of how it worked.  I competed against two other Atlanta designers to win the opportunity to design the homeowner's family room.  We designed 3 different rooms in their home and then the homeowner chose their favorite designer.  They only showed 2 rooms on the show, the kitchen dining area and the guest room.  After seeing all the spaces, the homeowners chose me to makeover their family room.  It felt fabulous to win after all the hard work that went into the preparation and filming.
Here are few pictures from the guest room that I designed.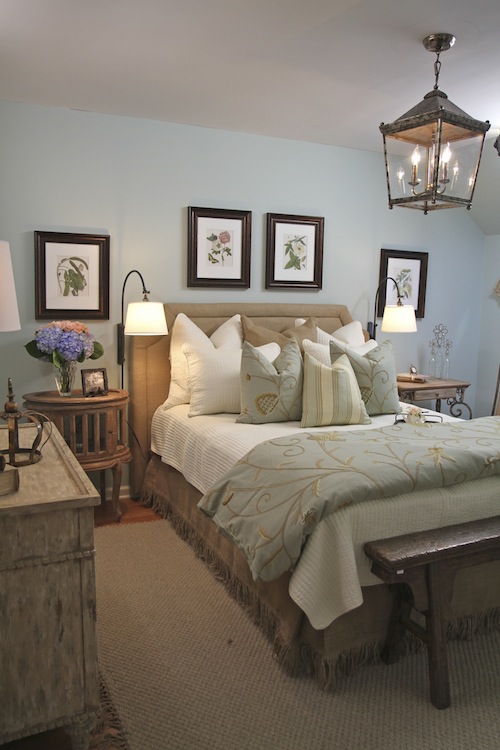 We had approximately 3 hours and $2500 to decorate this space.  The dollar amount was not actually given to me.  It was just a guideline given to us by HGTV.  I had to go to my resources and borrow, rent or buy and return the items I needed.  From the beginning, my focus was on my local resources.  The items in this space were provided to me by the White Rabbit Cottage, Ballard Designs, Woodstock Furniture and Nadeau.  A big thanks to all of them!  And a huge thanks to my wonderful friend, Heidi, she gave up the majority of her summer (We filmed the show last July.) to help me put this whole thing together.  If you wonder how all that furniture got moved, window treatments hung, pillows fluffed, Heidi and I did it all.  There was a crew to help us out with some of the heavy lifting and painting, but the majority of the work was done each day by Heidi and myself!  More on that Monday when I show you the family room reveal.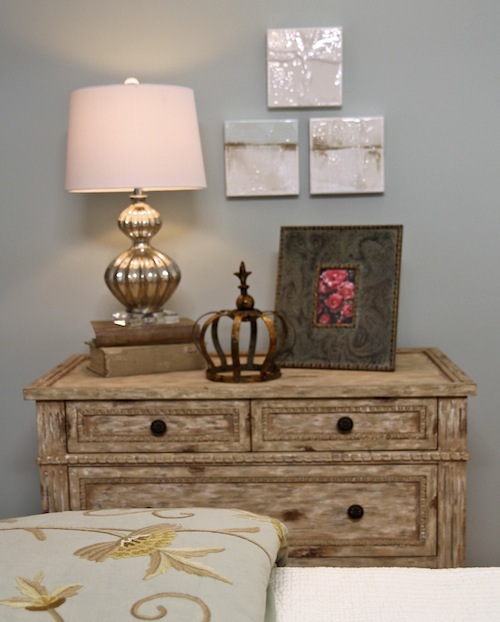 The artwork in this photo was provided by dk Gallery.  Bonnie Fuchs is the fabulous artist.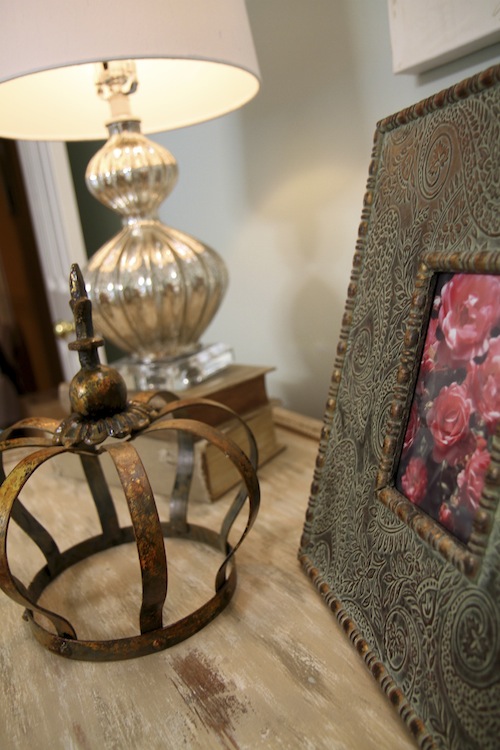 My husband took this photo in my mom's garden a few years ago.  I had to be very creative with artwork.  HGTV requires artist permission for each piece used, so I couldn't just go out and buy just anything.  I had to be able to contact and get written consent from the artist.  Each of my spaces contain original artwork and photos taken by Eric.  Such a blessing to have a talented photographer husband!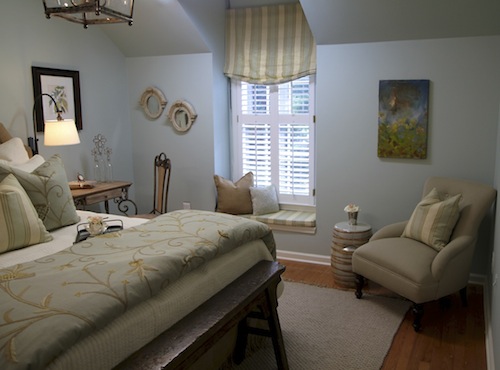 This side of the guest room was my favorite.  I have a wonderful fabricator who made the window treatment, cushion and pillows.  Thanks Kathy!  The beautiful abstract art is an encaustic piece by Jenny King another local artist.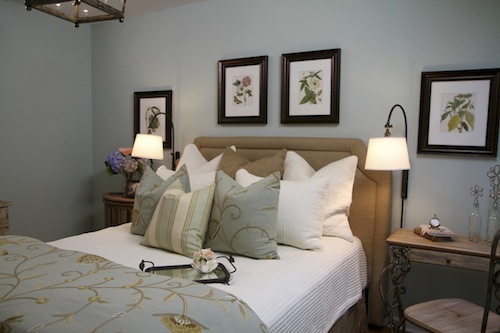 Here's a shot from the other side of the room.  Holly had asked if the homeowners kept everything.  They actually only got to keep the things in their family room.  (I'll show you that space on Monday.)  It had to be so hard for them to see their plain jane guest room transformed 3 different times and not be able to keep it, but that's how it worked.
Many of you have asked what I won.  HGTV has put several images from my portfolio on their website.  Check out the Designer's Portfolio here!
I hope you've enjoyed part 1 of my behind the scenes.  Stay tuned for the family room reveal on Monday!
Have a great weekend!