Hi all,
I'm so happy to be sharing a new project with you today.  Starting a new project is just like anything new, it's all shiny and bright with possibilities.  This project is no exception.  When this client contacted me, I can honestly say, I was thrilled to be working on a lake house.  There's just something special about designing a second home, one that's just for fun, family and making memories.
Join me as I develop a warm and welcoming plan for this home.  It's not a huge home, but it's small size is eclipsed by the character throughout.  Here are a few before pictures.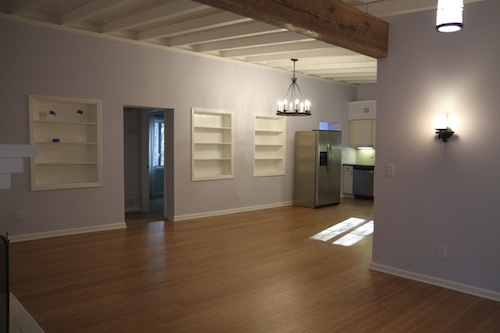 This is the view as you walk through the front door.  The paint color is not purple.  It is a soft blue that will stay for now.  The floors are bamboo.  Aren't they lucky to get such a wonderful place?  It is immaculate and beautiful.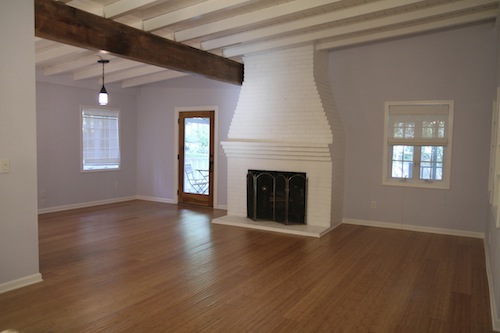 Looking back at the front door from the kitchen to my favorite part of the space.  The fireplace and the fabulous wood beams.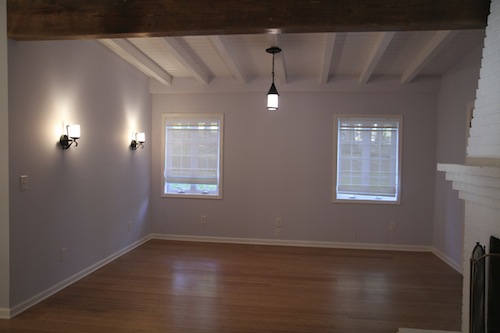 To the right of the fireplace.  Between those sconces will be a gallery wall of family photos that you will see as soon as you enter the space.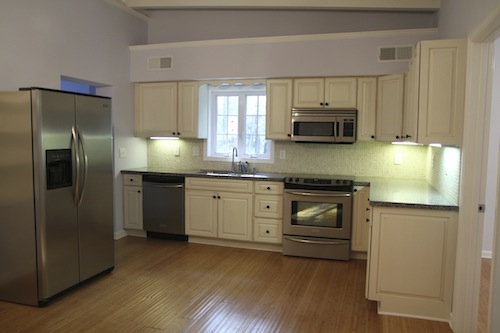 I found a vintage sign to hang above the cabinets that will give this kitchen some much needed color.
Now on to my inspiration for this space.
In my opinion, you can't go wrong with Sarah Richardson.  I love what she did with her own lake front cottage.  I will also be using a neutral palette with blue and red accents.  This color palette lets the outside view take center stage.
Vintage accents will be important in this space as well.  They will give the entire space more of a cozy cottage feel versus a dark masculine vibe that many people think of when they think lake house.
My client loves red and this accent color will add a much needed pop to an otherwise neutral space.  There won't be a lot of it, but just enough to make you take notice.  Remember to keep your accent colors in check.  A little color can go a long way.
Stay tuned for more photos from my latest project.  Don't forget about my HGTV show Design Wars on 4/20 at 1pm est.  If you're in the Atlanta area, you're invited to a viewing party on 4/21 from 7pm-9pm at dk Gallery on the Marietta Square.