Hi friends,
The day has come to celebrate you.  Why, you ask?  This week marks my 1 year blogiversary and I couldn't have gotten here without your support.  To thank you, I put together a few of my favorite things just for you!  Here they are and why they are my favorite things.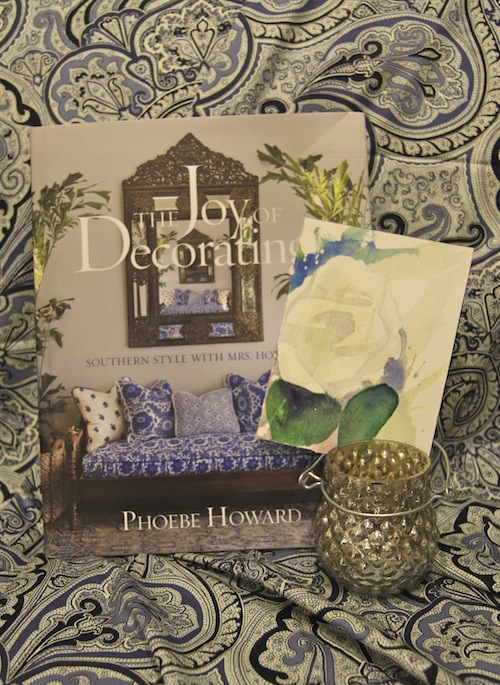 I preordered Phoebe Howard's new book weeks ago and it finally came last week.  As soon as I received it, I knew it would be an instant classic.  I can already tell this will be a book that I refer to again and again in the years to come.  Phoebe's style is classic and timeless, but it's her back story that first drew me to her.  You see, Phoebe, like me, is a self taught designer.  She has no formal training in interior design.   She was a stay at home mom, who followed her passion.  She says in the introduction that she did not choose this career.  It chose her.  That's how I feel as well.  It's something I love and I do not feel complete unless I'm doing it.  I hope you enjoy Phoebe's book as much as I do.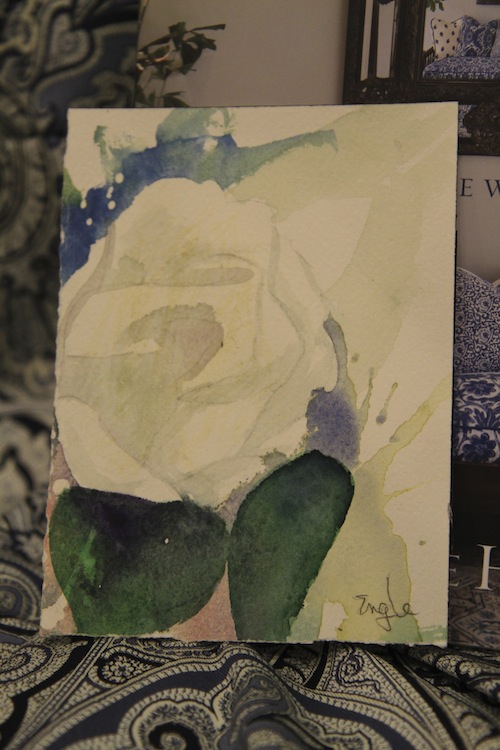 If you've read my blog for any time, you know that I have a passion for art.  This passion takes me to dk Gallery on the Marietta Square quite often.  This gift to you would not be complete without a piece of original art.  This piece is a watercolor by Maureen Engle.  Her loose, impressionistic style is beautiful whether she is painting in oil, acrylic or watercolor.   This flower reminds me of an old fashioned gardenia and makes me smile.  I hope you love it too.
A yard of Waverly's Paddock Shawl is a gorgeous addition to any space.  Blue and white is a color palette I never tire of.  It is a wonderful traditional base, but add in a splash of citrine and it's given a modern update.  This fabric would make beautiful pillows or even a gorgeous runner for your dining table.
And, last but not least, no space is complete without a little sparkle.  This mercury glass votive holder adds the perfect final touch.
What do you need to do to win my favorite things?  Only one thing.  Leave a comment.  No following (unless you want to!) or joining or giving me your first born.  This is a gift to you.  My way of saying thanks for an amazing year.  None of us know what's to come over the next year, but I promise to continue bringing you information that will help you love your home.  Today is about you.  Thank you, for everything.
P.S. You can enter more than once by tweeting, facebooking or blogging about the giveaway.  Just be sure to leave another comment and let me know that you did it!