A friend of mine sent me a note the other day and asked my advice about her kitchen.  The cabinetry is white and will stay that way, but she wants to replace her countertops and backsplash.  I suggested a white subway tile for the backsplash.  It's timeless and can be very economical.  The only problem with an all white kitchen is that it can sometimes feel very sterile and blah (yes, that is an official decorating term).  Here are a few ways that you can add some interest to your all white kitchen.  Definitely no blah here!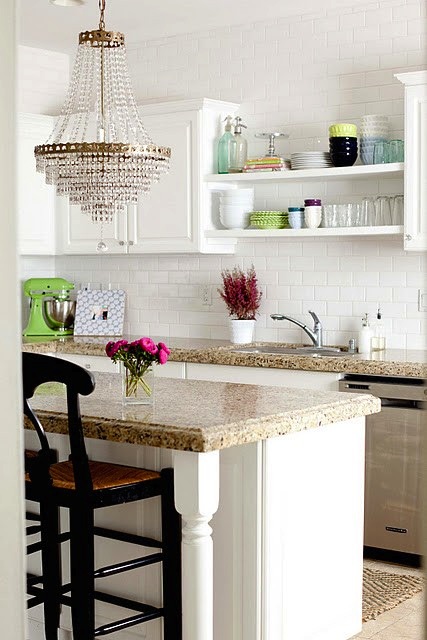 This chandelier is unexpected, but the perfect addition to this traditional kitchen.  The metal finish also picks up the warmth in the countertop.  A silver finish wouldn't have felt the same.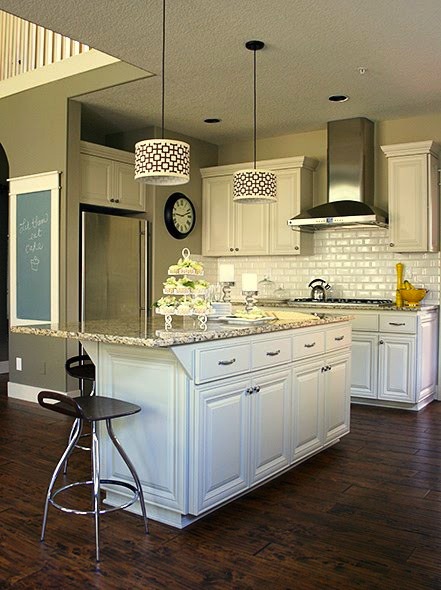 These drum shades give this kitchen the pop it needs to feel updated and modern.  Add in dark wood floors and black barstools and the look is anything but boring.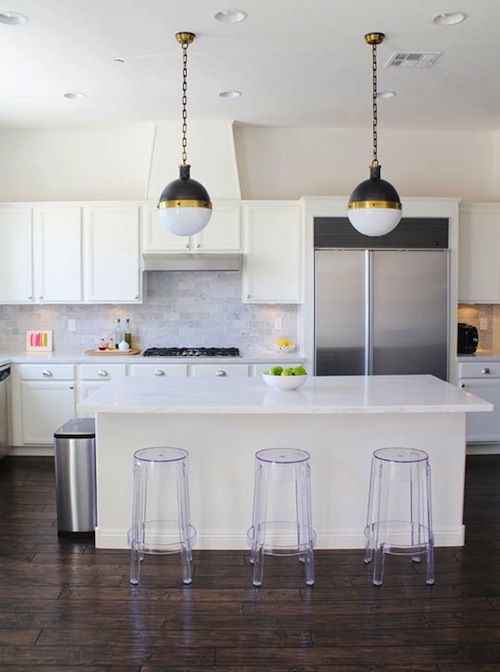 This is one of my favorites and it has everything to do with those amazing globe fixtures.  It feels like this kitchen was made just for them.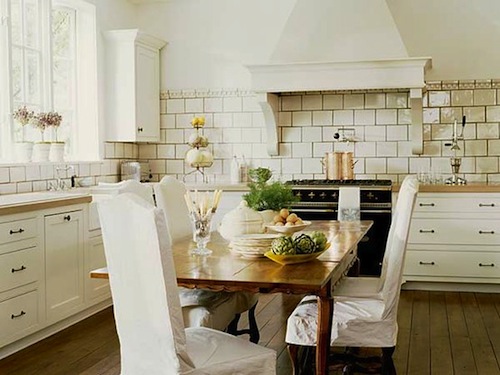 In this kitchen the backsplash itself is the story.  The size, the sheen and the dark grout make this tile backsplash stand out.  Remember that you don't always have to match the grout color to the tile.  This kitchen would not have the same impact without the dark grout.  It's a simple thing that can make a huge difference in your space.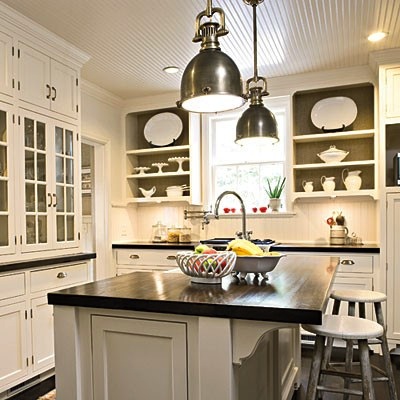 Finally, even though this kitchen has bead board backsplash instead of tile, you get the idea.  But, what's the wow factor here?  It's the lighting, that beautiful accent color in the bookcases and the dark wood countertop.  They all work together to make this small kitchen stand out without feeling cluttered or busy.
I hope this has helped you with your all white kitchens.  These are just a few ideas and there are many more.  I'd love to hear your thoughts.  What have you seen or done in your own spaces?  How do you keep them from feeling blah?