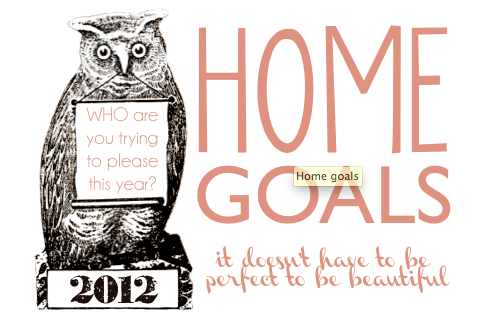 Today I'm joining the Nester and sharing my Home Goals for 2012.  When I started this list, it was the normal redo this, paint that, buy these.  But after reading the Nester's post on her goals, I realized that I wasn't really focused on my family and their needs.  It was just about filling my spaces with stuff.  Here's what the Nester says about our homes.
"Your home is for the people who live there first and foremost, honor them and also think about your guests.  This means you can ignore what your well-intentioned neighbor, 80-year-old male painter, and kind-hearted father in law have to say about your paint colors and furniture placement. Make it work for your family for this season of life."
Make it work for my family.  Not for any one else, just for us.  Is that your first thought when you think about decorating your home?  I can honestly say that I have not always thought this way.  But, the Nester's words really hit home for me.  I sometimes find myself thinking if I could only do this, if we could only afford to change this, when what I should really be thinking is how can I make my home work better for my family.  How can I make our life better by making our home work better for us?
See, that's what this is really all about.  I hear myself ask clients this all the time.  How do you live in your spaces?  How can we make it better for your family?  My tag line is "Inspired by Life", yet I haven't been living that way myself.
So, what started as a list of things to do for my home, has changed into a goal for myself.  It's still a home goal, but this time it's not for others, it's for my family, to better our lives by making our spaces work better for each of us.
The question in the picture above is "WHO are you trying to please this year?"  What about you? Does your home work for your family?  Who are you trying to please?