Wow, what a weekend!  It was warm and beautiful here in Atlanta on Friday and Saturday and I took full advantage of it by doing what I do best.  Shopping! (For a client of course.)  A have a new client who has purchased a second home in Nashville that needed a lot of work.  The construction is well underway and I thought I'd share the fun stuff with you all today.  The design plan!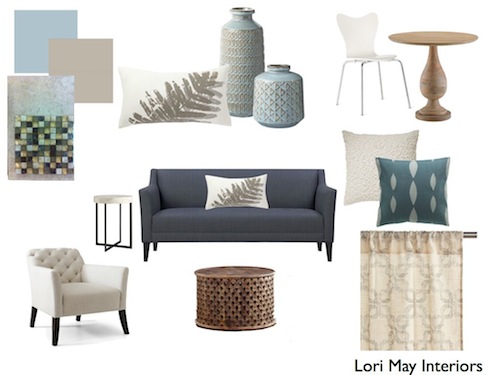 The space is a loft in downtown Nashville, but my client didn't want an edgy contemporary look, she wanted a relaxing retreat.  A neutral palette seemed to be a perfect fit for this small 600 sf space.  Add in her favorite blue as an accent color and the palette was complete.
In the upper left corner of the plan, you can see the paint colors as well as the floor tile and mosaic backsplash tile.  I posted the sofa that I found here.  The one in the plan is similar.  Remember when you're planning for a small space to keep the furniture in proportion.  The furniture in this space is smaller, but we will still have seating for 6.  The window panels on the lower right corner will flank the 4 large windows in the living space.  I thought it was important to dress the windows to continue to soften the space and add texture.  The fabric is similar to the wall color, however, so they won't overwhelm the small living area.
Mixing textures was extremely important with this design plan and I think it's a helpful hint for everyone.  If you're using a neutral palette, texture plays a vital role in keeping things interesting.  We think of texture when we see pieces like the tribal coffee table or nubby pillow above, but also remember that smooth pieces like the modern white chair or bone side table next to the sofa also have texture.  When you mix the smooth and the rough textures together, you can take your neutral palette to the next level.
There's much more to come with this project and I can't wait to show it to you.  Before and after pics to come!