I'll bet many of you have heard of From the Right Bank, the fabulously chic blog, by my friend, Ally.  We worked together on the Room Service Atlanta project at the Nicholas House earlier this year.  Ally's blog is full of amazing content from her own international travels to her beautifully decorated home.  She is a contributor to several websites and publications and also consults on interior design projects.  She describes her style as global modern which she has developed from living in Europe, Asia and on both coasts of the U.S.  This girl gets around!  These experiences have honed her decorating style into one that I and many others find both inspirational and also attainable.  Ally, has now taken her fabulous taste and curated a collection of goodies for us all.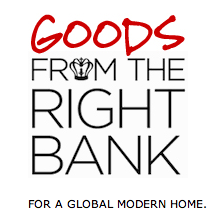 This past week, Ally announced the opening of her new online shop, Goods From the Right Bank.  The collection includes original, one of a kind pieces, as well as Ally's fabulous thrift store finds.
I'm really eyeing those gorgeous green vases.  What are your favorites?  Ally tells me she has many more things to add to the shop, so stay tuned.  And, if you see something you like, you'd better snap it up, because I'm sure it won't last long.
As a side note, remember that little HGTV project that took up almost my entire summer? Well, Design Wars will start airing on November 21st.  I'm so excited about it.  I'll keep you posted when my episode will air.
My parents are coming in town for the weekend.  My mom and I are headed to the Oprah, O You event here in Atlanta on Saturday.  So excited to see Nate Berkus and maybe even O herself!  I'll fill you in on all the details next week.  Have a great one!