I told you guys a few days ago that my helpers and I have been working on our fall display here at the May casa.  Today I finished up the last of it and I can't wait to show it to you all.  So, let's get to it!  Here's what I was dealing with.  It was a pretty sad state of affairs after the super hot Atlanta summer we had.  Here's the sad before.
The porch and pots definitely needed some pizazz.  Soooo,
I went for a really simple look this year.  I'd love to say it was because that's the way that I actually wanted it, but honestly it's because of this sweet girl.
Oh, she looks harmless enough here, but this girl loves herself a pumpkin.  While we're gone and she's alone, she pretty much annihilates anything pumpkin related.
These poor pumpkins had beautiful perfect stems when I left the house the other day and this is what I came back too.  It had to be simple or nothing.  So, I enlisted the help of these two to help with the planting.
I used my wire cutters and snipped all of the pieces that I wanted to use and attached them to the wreath form with floral wire.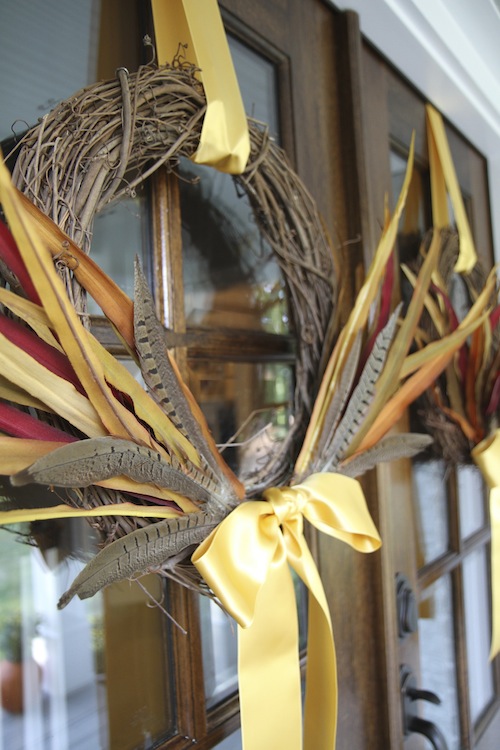 Once I tied the bow, I was ready to hang them on the door.  I had this gold satin ribbon on hand and it worked perfectly for a very simple bow.  

Here's the final result one more time.  I still have more pumpkins to add, you know the carved kind.  But, you know my issue with the pumpkins, so they will be added a bit closer to Halloween.  I'll also post another pic once the mums have bloomed.  Hope you enjoyed it!

I'm linking up to Thrifty Decor Chick  and Tip Junkie today.  Head over and check out all of the other great fall ideas!