Happy Monday all!  Today I'm joining Rene's linky party over at Cottage and Vine.  This is a new series called Room by Room and we're starting with foyers, so here we go…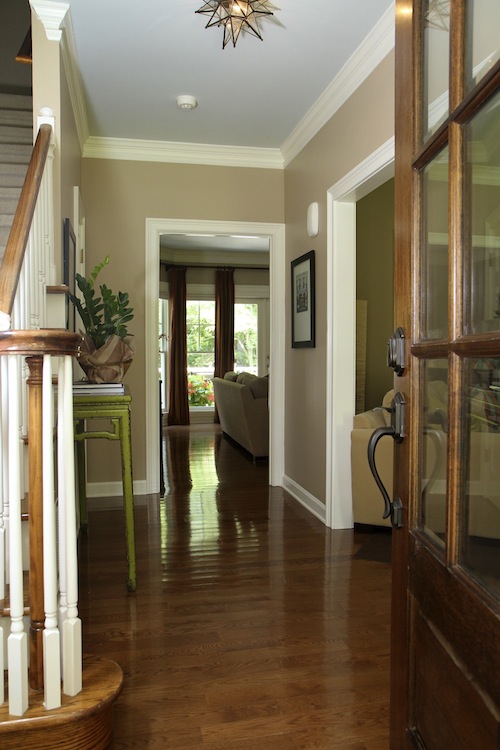 Here's the entry to our home.  To be honest, it was always my least favorite part of our home.  When our house was built, almost 30 years ago, the builder framed it wrong and the stairs ended up being too close to the front door.  At one point, I had someone come out to tell me how much it would cost to push our foyer out onto our porch to create more space.  Let's just say that we were not very receptive to the $20k price tag to do it.  During our exterior remodel last year, I tried to remedy the problem on my own by adding the double front doors.  You can see more about that here.  I'm pleased to say that I love how it turned out.  It will never be the spacious foyer that I adore in other people's homes, but for us it works just fine.  To me, it adds character.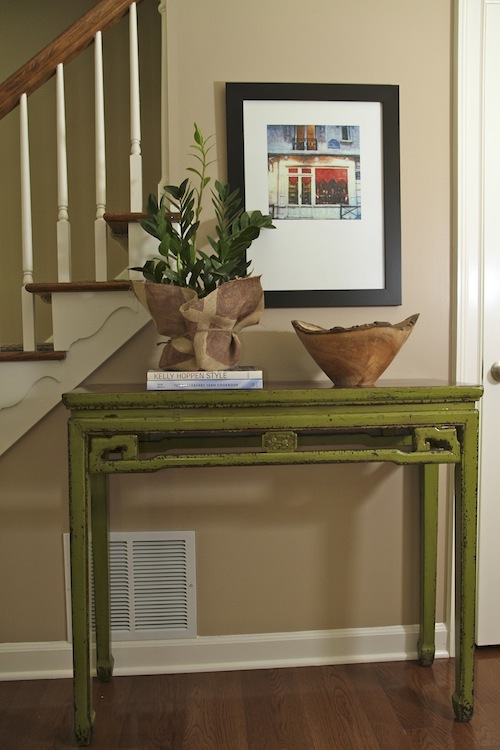 Here's another view.   Do you remember this console table?  I bought it on my very first trip to Scott's Antique market here in Atlanta.  Add a plant with the burlap pot covers I made here, a couple of books and a favorite wooden bowl given to us as a wedding gift and you have a simple foyer that really speaks to me.  It is the perfect mix of color and texture that I love.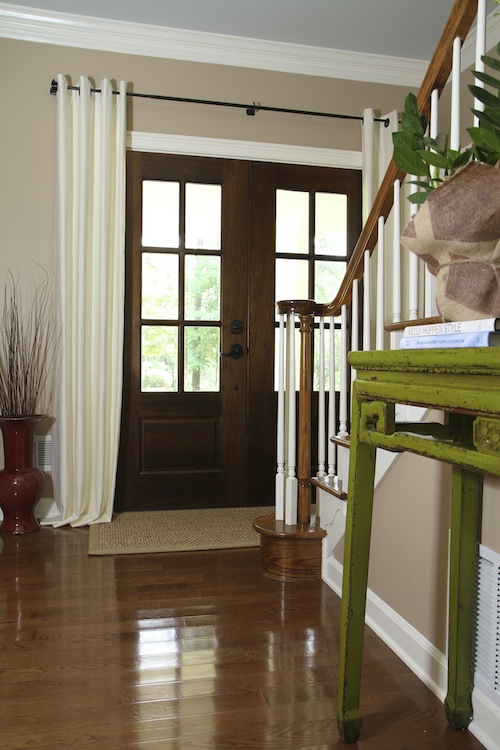 Here's a view from the family room back to the front doors.  Once the double front doors were installed, I realized that I needed a privacy solution.  These linen/cotton drapes from Pottery Barn were the perfect solution.  I mainly use them in the wintertime, because it gets dark so early.  Once the drapes are drawn, our home instantly becomes warm and cozy.
I hope you've enjoyed the tour of my foyer.  Be sure to head on over to Cottage and Vine today to join in on the Room by Room linky party or just to see all of the other options to update your own foyer.
Also, don't forget that today is the last day to enter my very first giveaway for a $100 Target gift card!  Be sure and enter here.