Hi all,
So, I know this post will mean more to my local readers, but I wanted to share one of the most wonderful resources that I've found in my search for goodies for my HGTV appearance.  (Yes, they've now told me that I can mention that I'll be appearing on Design Wars. I mentioned it a couple of weeks ago and then read my contract and thought I was going to be kicked off before I even started, but I got that all cleared up.  No details until after the show airs in November, but I can at least tell you that I'm on it!)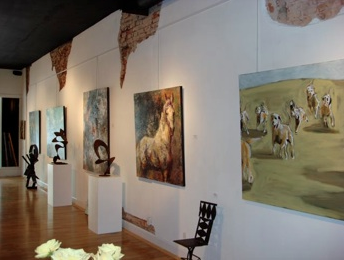 Okay, back to my new local find.  dk Gallery is located in a historic 1800's storefront on the Marietta square. Donna (the d in dk) has done an amazing job building a diverse collection of artists and sculptors from here in the South.  Take a peak at some of the beautiful pieces that she features.  I'll tell you right now, though, that my pictures don't do any justice to these pieces.  They are so much more exquisite in person. There's no way to show you the texture and depth of color in just a photo.
This is one of my favorites…
All of Susan's pieces are gorgeous, but her animals are breathtaking.
Jim's landscapes could work in the most traditional or contemporary of homes.
Helen's pieces were unlike any I've ever seen.  She uses an encaustic method of painting.  It  utilizes a combination of beeswax, resin and colored pigments.  The depth of color and texture of these pieces is hard to explain.  You just have to see it.  I have the perfect place picked out for this beauty.
Wouldn't this piece be perfect in a lake home?
Cathryn's piece is Eric's favorite and my choice for my imaginary beach home.  It reminds me so much of our trip to Hilton Head.  I can just see it hanging over my mantle as I sit sipping a cup of tea looking out at the sea…
I hope you enjoyed the tour.  If your in the Atlanta area, please come by and visit dk Gallery.  Donna would love to have you.  If you're not in the area, check out your local galleries.  You'll be surprised how affordable original artwork can be.  After seeing these amazing pieces, it'll be hard to go back to off the shelf prints.