I met Kristen at our first Room Service Atlanta meeting at Nicholas House.  I had already seen her work on her blog and knew that I wanted her to paint something in my room.  As always, she did the most amazing job!  You can see more of her project here.  And now, here's Kristen…
Hello! I'm Kristen Davis, from 
kfd designs
. I am a decorative painter in Atlanta, and my blog is all about the projects that I take on for clients, and the ones that I complete in my own home. I wanted to share with you guys one my favorite transformations of all time.
I bought this thrift store sofa for only $25. At the time (in 2009), I'd just bought a big, bulky, fluffy sofa from JC Penney that really wasn't my style, but since it'd arrived (looking not-so-much like the one on their website), I'd just stuck with it. Anyway, a few months later, I found this $25 dollar sofa at one of my favorite thrift stores, and just knew it had the perfect shape and lines for me. It was meant to be! I made some phone calls, and borrowed a friend's truck to haul it home. Would you believe I hauled it inside the truck, and inside my house all by myself? Hah! For a few days, we had to live with 2 sofas.
This is what it looked like "before", when I first purchased it: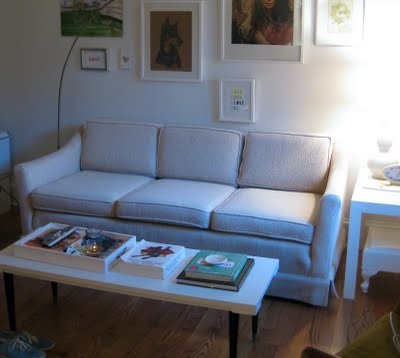 I always knew that it'd need a reupholstery job in the future, but I waited 2 years before finally getting up the nerve to have it done this spring. Our beloved cat had claws both sides, until the cotton on the inside was hanging out of it. It was terrible! When I had it reupholstered, I had them leave off the skirt, then when I got it back, I stained the wooden legs a dark java color. Here's what she looks like now!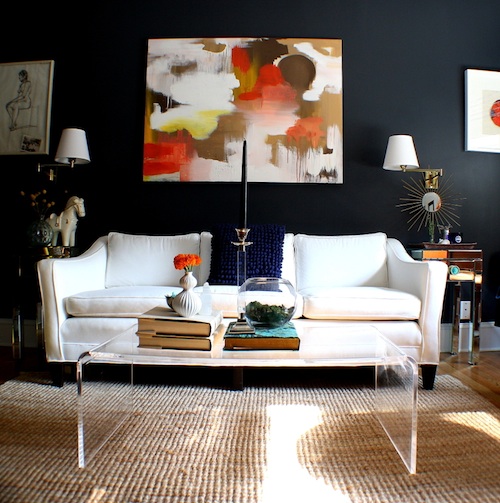 I love it! It's one of my favorite transformations, and even though it's just a sofa, it makes me happy everytime I look at it.
Thanks so much for stopping by, Kristen!  What a transformation!