Today I'm welcoming Rene from Cottage and Vine.  I love Rene's blog.  She has been one of the most generous bloggers that I have encountered in my short time here in blog world.  She does it all, wonderful blog, amazing Etsy shop and design services!  On top of all that she manages to find time to be a great mom and give a helping hand to newbie bloggers (me!)  Thanks for stopping by Rene!
Hello to all of Lori's followers.  I am Rene from the blog Cottage and Vine.  I am honored to be a guest of Lori today.  She asked that I share a blurb about myself and something I have recently worked on.  Truth be told, I am notorious for starting projects then moving on the others before they are finished.  I usually finish what I start, it just might take a while.  In between projects, I am a mother of two very busy boys, own an Etsy shop, and do design consultation.
Today I will share a client project that I am working on.  A client of mine needed help with her kitchen.  The yellow walls and maple cabinetry were no longer the look she wanted.  Because the kitchen was updated only two years ago, painting the cabinets was not an option.  The room had become dark and lacked accessories.  The initial plan was to paint the kitchen white to give it a fresh modern feeling.  Often the paint color should be chosen last after fabrics, rugs, etc., but in this case, it was the thing to do.
Here are some of the inspiration photos for the project….
The stonework and natural beams remind me of the fireplace in my client's kitchen.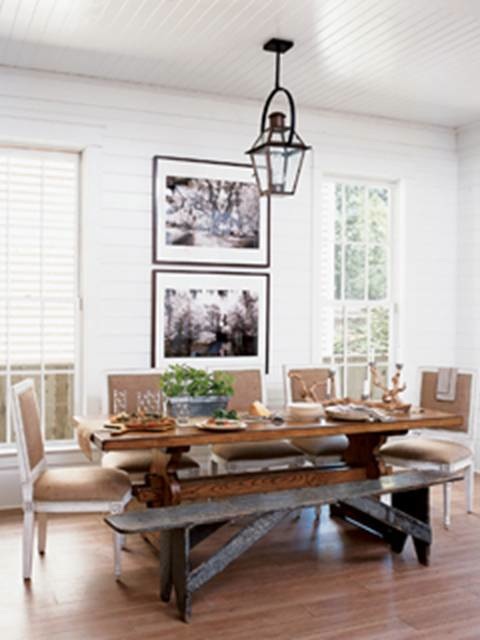 The natural beauty of the wood really shines with a clean white wall in the background.  The spaces take on a more modern feeling and the white also allows the artwork and accessories to play a more important roll.  So far, my client has painted the kitchen white and we love the result.  Now for the fine tuning.
Hopefully I will be able to share more updates soon.  Thanks so much for having me over today Lori!
What a great project to work on!  Can't wait to see how it all turns out.  Thanks again for stopping by today, Rene!