Hi all, I hope you'll welcome Dayka from Meditations on Life and Style.  I am so glad to have her over at my place today!

My name is Dayka Robinson, and my blog, Meditations on Life and Style, is all about my life as a designer, vintage lover & furniture refinisher. I love to spend my days searching flea markets and thrift stores for great pieces to modernize and reuse, so some of my favorite projects to share are Before and Afters. When on the furniture shopping, I look for well-constructed character pieces, like this vintage Campaign desk.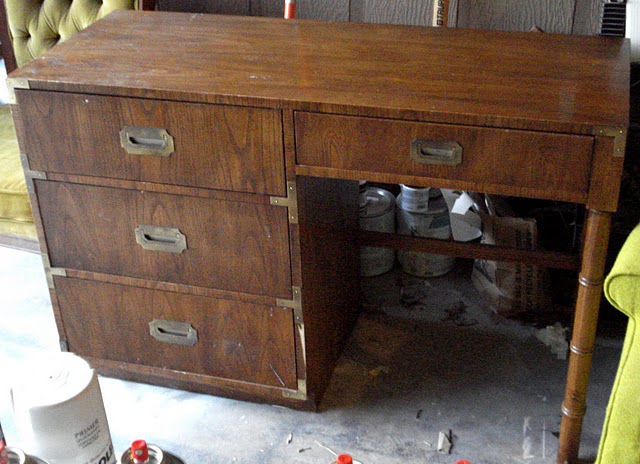 My initial plan was to paint it a bright, punchy color and sell it, but I decided to swap out my old desk for this one because it had more storage, which my old desk sorely lacked. This was one of my easier projects–after polishing the hardware with Brasso, I primed and sprayed the desk with Kilz Spray primer and Rustoleum High Performance spray paint. After about two hours of work, my old beat up desk became this: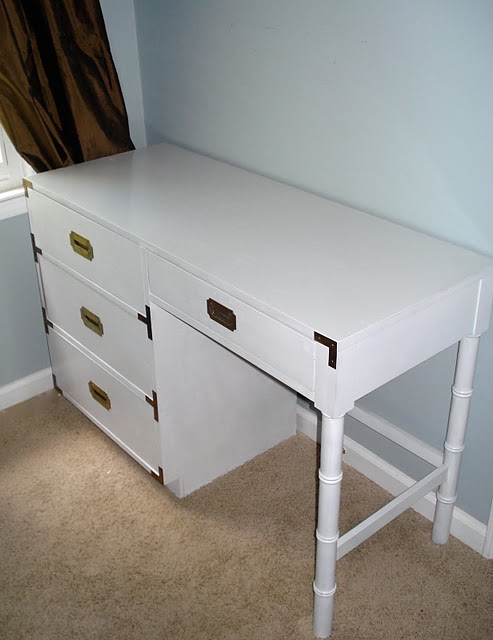 I consider it a testament to the power of paint and a good eye!
Lori–thanks again for asking me to share my work with your readers. Enjoy your much needed vacation & blog break–we'll see you back here next week!
Thanks so much Dayka!  Be sure to head on over to Meditations on Life and Style and check out the all of the other fabulous before and after projects that she has completed!