Hi all!  I'm a very busy girl today, but I wanted to get this post off to you all before I leave for the beach tomorrow for a whole week!!  Can you tell I'm a little excited?  I assure you that's nothing compared to my girls.  They can hardly wait for tomorrow to get here.  My lovelies are not late sleepers, so I'm sure that they will be up with the chickens first thing in the morning ready to go!  So that makes mama really busy today, packing, preparing and getting our sweet dog Lucy taken care of.  My husband, who packed all of his things for the trip in about 5 minutes last night, asked me what else we needed to do?  Really?  He has absolutely know idea what it takes to get ready for this entire family go leave town for a week!
Anyway, on to my latest find for my oldest's room redo!  Last week, I found this amazing campaign dresser over at A Flair for Vintage Decor.  I contacted Caroline, found out it was still available and it was mine! It's the perfect combination of function and style that I'm going for in my oldest's room.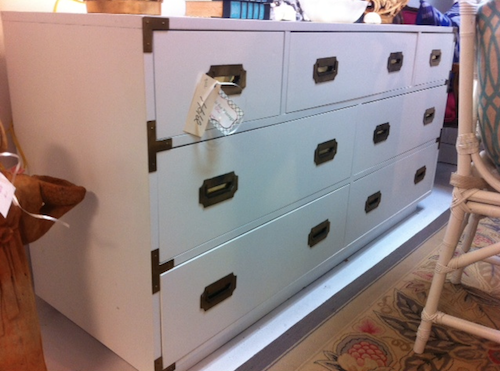 If you haven't checked out Caroline's blog, head on over today.  She also has an adorable shop in Nashville that I can't wait to visit when I head up there to get my dresser in a couple of weeks.
Caroline is also part of my exciting news.  She will be guest posting here next week along with Lakeitha from Home to Three Duncan Boys, Kristen from Kristen F. Davis Designs, Tiffany from Savor Home, Dayka from Meditations on Life and Style and Rene from Cottage and Vine.  Since starting this blog in March, these ladies have been so incredibly supportive.  I really can't thank them enough!
I hope you all have a wonderful weekend and I'll see you back here next week!