I hope everyone had a wonderful Mother's Day yesterday.  The weather here in Atlanta could not have been more beautiful and my family treated me like a queen.  A beautiful gift, homemade cards, lunch out and a home cooked dinner that I did not have to lift a finger to prepare.  It was the best!  Thank you Eric and my sweet girls.  It is truly an honor to be your wife and mom.
On a different note, I am on the hunt for a new side table for my family room.  Now, I'll forewarn you now.  I am always on the hunt for a new something, so tomorrow I could be on to something else without batting an eye, but for today it's the side table.  I have a pretty specific piece in mind.  The one I have now has served us well for 10 years, but I am really tired of it's dark wood and sharp lines.  I want something round or oval, with a lighter look and feel.  I'm leaning toward metal pieces with a slight metallic finish, but just not sure yet.  I'm definitely a "I'll know it when I see it" kind of girl.
Here are a few that I'm obsessing about right now…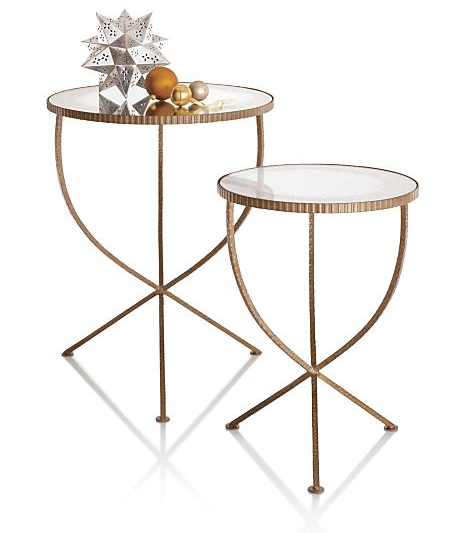 I first looked at these from Crate and Barrel, but Eric thought that they were too dainty and I have to admit, I think he's right on this one.
Then, I moved on to this classic wine barrel table from Restoration Hardware.  I really can't go wrong here, but it just doesn't wow me, plus there are no mirrors, glass or metallic finishes, so I'm not quite sure why I even bothered.  Definitely, the safe option.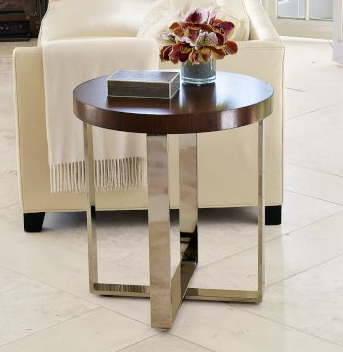 Love this piece from William Sonoma Home, but it may be a bit modern for my room.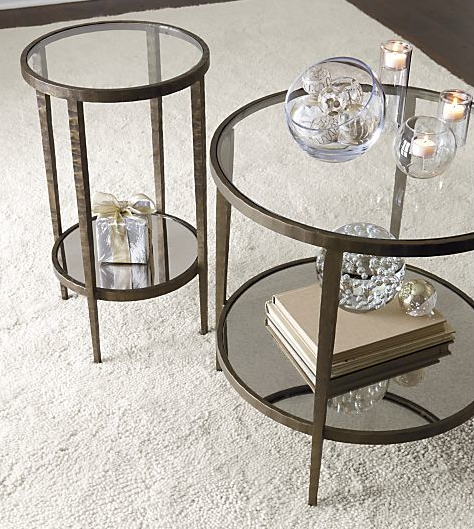 This one from Crate is my functional favorite.  I like the idea of having a bottom shelf for books, magazines or the random Polly Pocket home.  My girls love to make homes for their dolls all over the house.  This would be a favorite two story version, I can tell.  I also like the hammered metal finish on this piece.  Probably about as close to what I had in mind as any that I've seen so far.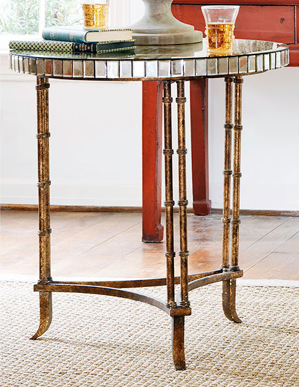 And, last but not least, this mirrored beauty from Wisteria.  I love the sparkle of the beveled mirrors and the metallic antique gold finish.  The finish is similar to the nesting tables at the top Crate, but the piece itself is so much more substantial and special looking to me.  Right not, this is my top contender.  What do you think?  Do you have a favorite?  What are you obsessing about right now?