Obviously, you know by now that my Nicholas House/Atlanta Room Service project has been completed.  You've seen the befores and the afters, but over the next few days, I want to give a shout out to the wonderful artists who donated things to my room.

Today, it's Olga over at Elegant Touch.  I first discovered Olga when I bought pillows for my own couch from her lovely Etsy site.  You can read about that here.  When she read about the Nicholas House on my blog, she offered to donate one her beautiful pillows for the room.  I was thrilled!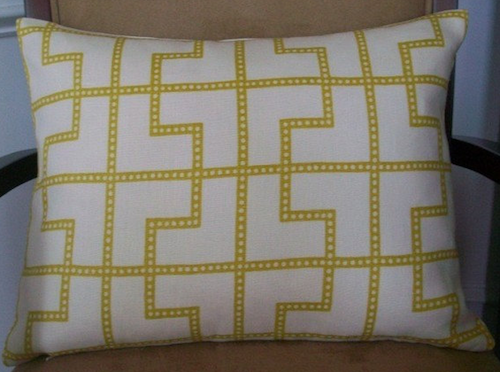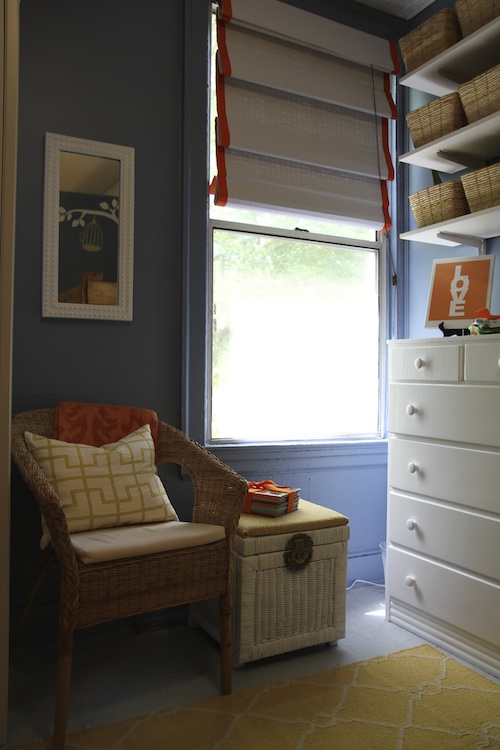 Here's the pillow in action in my room!  I just love it!
Here's a bit about Olga in her own words…
"I was fortunate to have my grandma's influence in learning to create beautiful things for the home that are handmade. I was probably one of the last generations to take a "mandatory" home economics class. Back then I didn't think it would help me in my life tremendously. I thought these are skills every woman should have. It was so easy for me to put things together. I thought I had a good eye for the colors. I would never thought in my wildest dreams that one day this "hobby"  would become  my carrier. I earned a Bachelor Degree in English and English literature and worked as a school teacher for couple of years until 2003 after I relocated to America. The concepts of Elegant touch was born alongside my son in 2005. As a mother I decided to trade in my career to enjoy motherhood and just "simple life". I've attended certified interior decorating courses along with professional classes in soft home furnishings at Custom Home Furnishings academy in Charlotte NC.  It  is the only teaching facility of its kind dedicated to educating people with professional skills necessary to home decor industry. I started my business in 2007 and worked  mostly for designers by making window treatments, bedding and pillows until a friend of mine mentioned about Etsy website. I decided to give it a try and posted  couple of pillows back in January of 2010.  Within days I began to make sales. In couple of months I was so busy with the orders that  I decided to dedicate my business completely to Etsy. I have been engaged in sewing since my childhood and just can't imagine my life without designing, creating and being inspired. I love shopping for different fabrics. I constantly try to add some new colors and patterns to my shop. What brings me joy the most is my customers. It is my great pleasure to fill your orders and know that my pillows adorn some of the finest homes of every major city in America.
I was so fortunate to get to know so many talented bloggers that helped me to advertise my business. I was also so proud to be a little part of Nicholas house transformation. I think Lori is doing a wonderful job!"
Thanks Olga!  I am so honored to have you as a part of this project.
Atlanta Blogger's Lunch
I spent Saturday afternoon with a wonderful group of ladies at La Madeleine restaurant.  Blogger extraordinaire  Rhoda from Southern Hospitality organized this get together.  It was great fun to meet other bloggers and readers.  We talked about current blogging trends like chalk paint (hint, it's not chalk board paint, but you, smart readers, probably already knew that!).  I'll be honest, I was in the dark about this, but Kim of Savvy Southern Style filled me in.  She has created some beautiful pieces using this paint.  You can go here to find out more about it.  I also found it helpful to talk to new bloggers like myself and well established bloggers like Kim and Rhoda.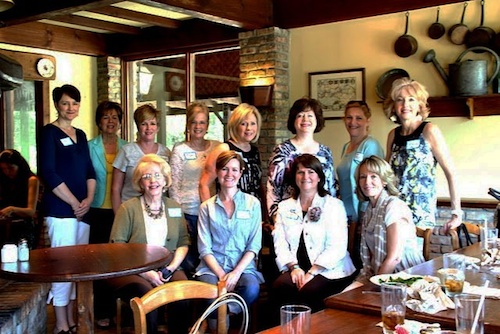 Here we are, thank goodness for name tags!  I so hope I got everyone's name right!
(Back row:  L to R: Jena (reader), Dorinda (reader), Kim (Savvy Southern Style), Jane(reader), Renae Moore (Renae Moore Designs), Libby (Light of the Home), Kim (Abnormally Normal), Rhoda (Southern Hospitality); Front Row:  L to R:  Babs (Upstairs, Downstairs), me, Tamela (reader), and Connie (Sensible Redesign)
So several of us had the Tomato Basil soup that La Madeleine is famous for.  A few years ago, my mother in law gave me a recipe for this wonderful soup.  I thought I would share it with you, so you can enjoy it too!  Add in a caesar salad, some great bread and you have a wonderful lunch or light dinner.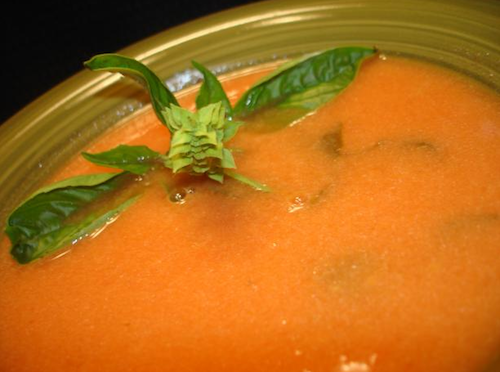 Tomato Basil Soup
Ingredients:
2 cans (28 oz each) crushed tomatoes
1 can (14 1/2 oz) chicken broth
18 to 20 fresh basil leaves (This is the key ingredient, fresh basil!)
1 teaspoon sugar
1 cup whipping cream (I know, I know!  Believe me, I have tried any number of replacements, but it's not the same without the cream or the butter!)
1/2 cup butter
In a large saucepan, bring the tomatoes and broth to a boil. Reduce heat; cover and simmer for 10 minutes. Add basil and sugar. Reduce heat to low; stir in cream and butter. Cook until butter is melted.
Serves 9.
How easy is that and it's soooo good!
Have a wonderful Wednesday!