After spending every day last week at the Nicholas House, I finally finished my room on Friday.  It was a crazy week of cleaning, painting, carpentry and decorating all in an 8 X 11 space!  Heidi (my wonderful friend who you can can read more about here)  and I worked each day from 9am to 1pm at the house and then headed back to Marietta to do more work on the pieces we brought home.  Once we finished, we would pack up the car for the next days work and hit the sack.  Huge kudos to our families as well, I know that no one at my house got a home cooked meal last week and I really don't remember what we ate most nights.  It's all kind of a blur…  But in the end, it was all so worth it for both Heidi and me.  We felt like the project turned out beautifully and will be welcoming and cheerful to the current and future residents.
So, if you remember from my first posts, this is the room when I first saw it…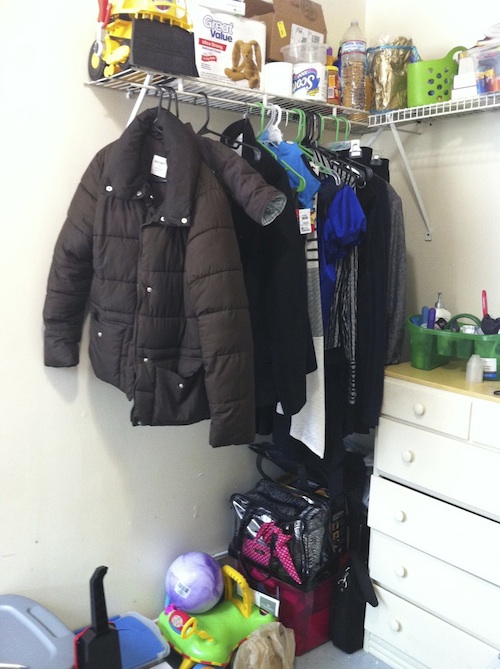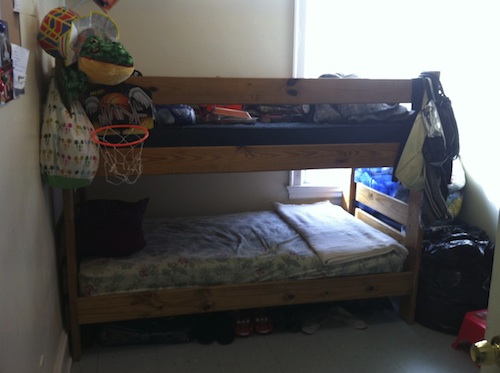 And here is the after…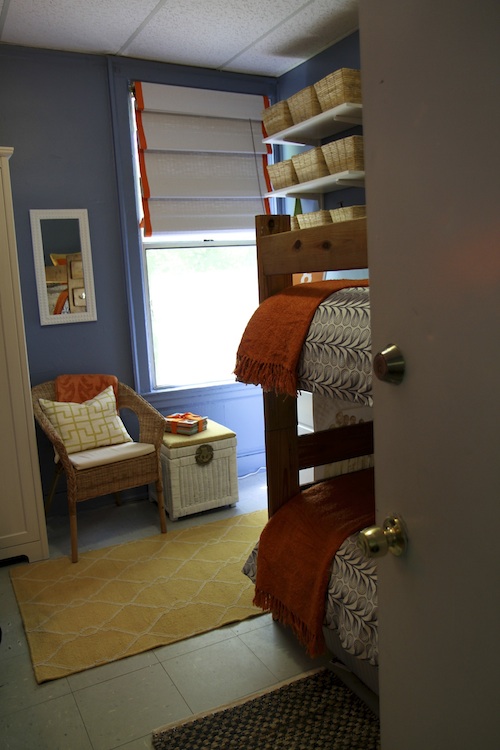 I stepped out of my comfort zone and used a color palette of blue, white, orange and yellow to create a cheerful and inviting space for this mom and her little boy.  You can read more about my inspiration here.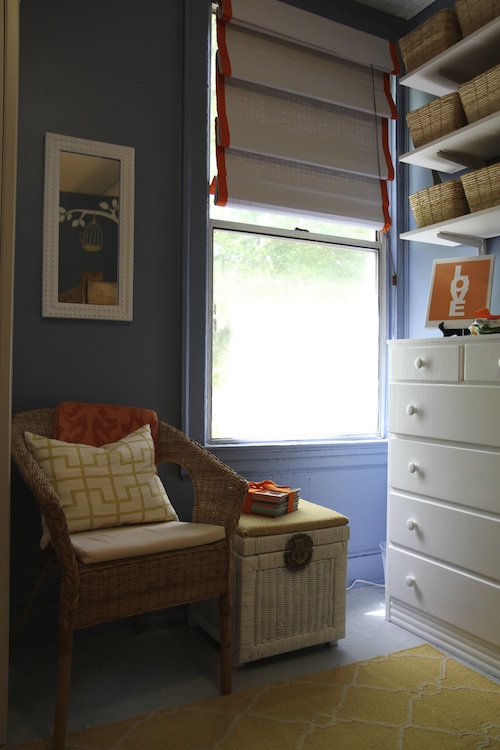 The Roman blind that Heidi and I made (so easy,tutorial to come!) really added a lot of pizazz to this little room.  It's one of the first things you see when you walk through the door.  It brightens up the space and also offers privacy.  Heidi found this $10 wicker chest at Goodwill. She spray painted it white and made a foam cushion using the same fabric I found at Garden Ridge for the throw pillows on the beds. The chest opens up and offers more storage.  I loved the pillow in the Celerie Kimble fabric so much that it was almost hard to let it go, but it was the perfect choice, so it had to stay!  It was also a donation by a wonderful etsy vendor and business owner, Olga Turnage at Elegant Touch.  More on her tomorrow…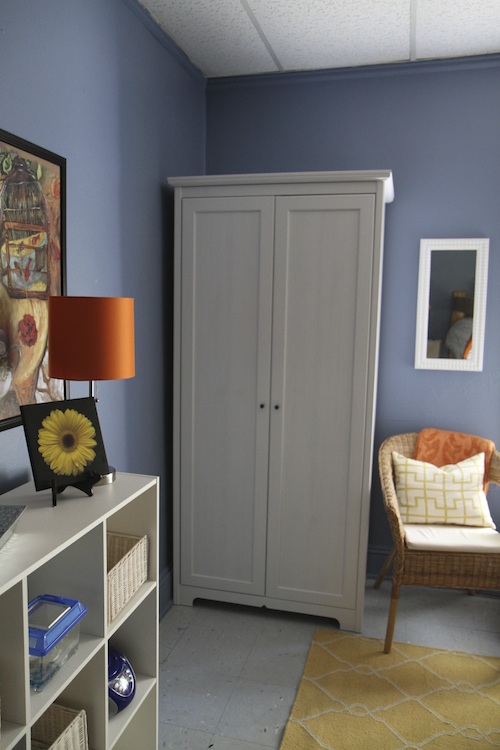 This is the other side of the room.  Again, I tried to make every piece of furniture work as storage.  On this side is an armoire from Ikea and a Target bookcase.  Can you see Oscar, the turtle on the bookshelf?  He really seemed to like his new home!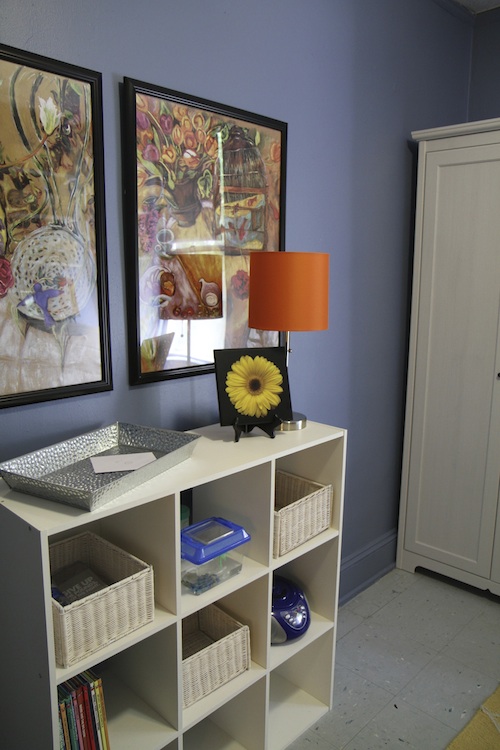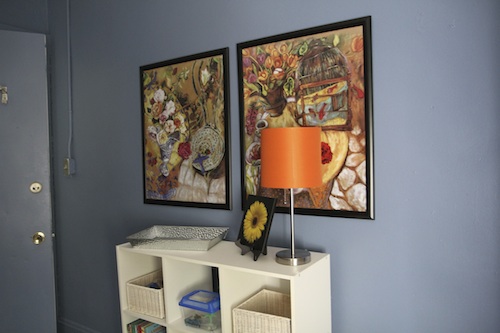 This shot shows off the beautiful artwork that was donated by my wonderful artist friend, Lynn Hays, that I will feature on the blog soon.  The colors are just perfect!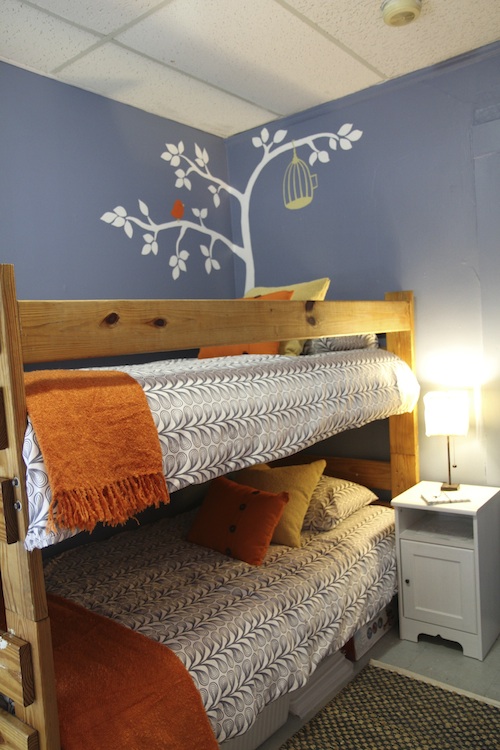 Here's the original bunk beds, but with all new bedding, pillows and a nightstand from Ikea that matches the armoire.  And just to show you how many people were involved in this process, my neighbor Michelle, made the yellow throw pillows for me.  Thank you Michelle, your a life saver!!  Kristen's mural really added the final special touch that I was going for with the space.  The bird and the empty birdcage is meant to symbolize leaving the shelter and moving on to bigger and better things.  I hope that this room helps whoever lives here to feel inspired to do just that.
Thank you to everyone who has offered their words of support and donations to this project.  I seriously could not have done this without you.  Also, a big thank you as well, to Erika and Dayka, founders of Room Service Atlanta, whose late night idea has made a huge impact on the lives of so many people at Nicholas House.  Thank you both for including me and I look forward to the next project!