Hi all!  I would love to say that I have tons of photos of our progress today, but they would be a bit boring I'm afraid.  Paint, paint and more paint, thats what went on this morning at Nicholas House.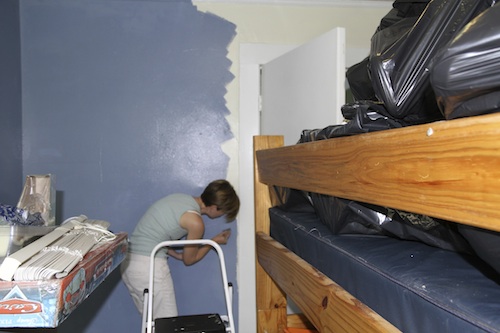 That's me painting away!  My fabulous friend and assistant for the week, Heidi, was behind the camera.  I would love to be able to show you more photos, but honestly this room is so small that it was nearly impossible to get a decent shot!  Imagine painting a closet with all of your belongings in it.  We had to basically shift and move things over and over.  I have no idea how many times I touched the same bag or box to move it from one corner to another.  And then there are the bunk beds that took both Heidi and I to move just a few feet.  Thankfully, that's as far as we needed to move it!
Don't get me wrong, though, this is an awesome project.  All of these talented women in one place creates an amazing amount of energy.  I can't wait to see the rooms come together.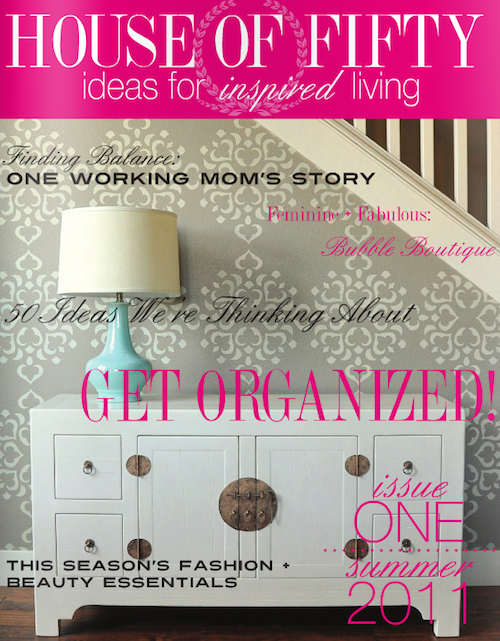 Last, but certainly not least… Have you seen the premiere issue of House of Fifty yet?  I'm sure it's all over the blog world, as it should be because it's so awesome!  Check it out here.  Janell and team did an amazing job and they are already hard at work on the next issue.  Bravo!