Okay, so a few months back when I read about the new online mag marriage between Lonny and Traditional Home, I was totally psyched.  Now don't get me wrong, I love reading all of the online mags out there, but my core style is traditional and there has not been an online mag that has spoken directly to me…until now.
When I opened my inbox yesterday and saw that Trad Home was live, I dropped everything to read it.  And by everything, I mean the laundry is still sitting in the basket and my family ate chicken nuggets and edamame for dinner.  Sad, but true and totally worth it!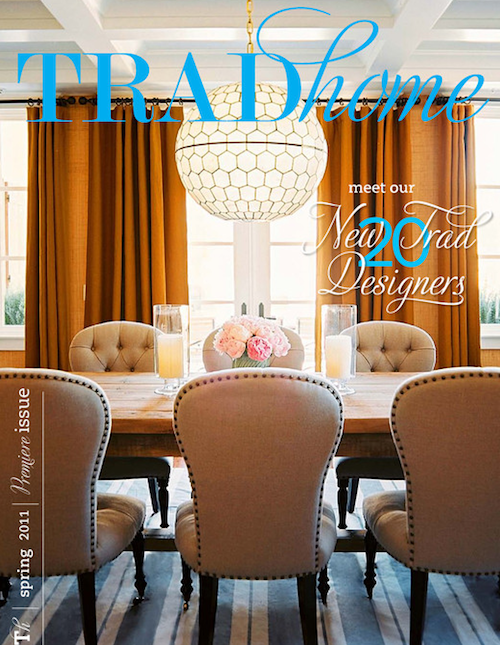 Here are a few of my favorite things from the premiere issue…
I love this color palette with the warm stone walls.
Love everything about this dining room.
What a great girl's room!  Such a fresh update on the classic pink and green.
Staying with the child friendly theme, this playroom is for the adults too!  I could totally lounge on the sectional and watch some Disney channel!
Another room by Jeff Andrews.  The sunburst mirrors and bright citrus vibe really make this room so chic and happy.
Back to a bit more calm feel.  Check out the wall art!  I could easily see this room in my own home.
Love this take on the classic beach house.  So calm and relaxing…
I'll leave you with this fabulous image.  The colors are to die for!  My absolute favorite color palette and my new design crush!
Hope you enjoyed the tour!  Check out the over 300 pages of Trad Home for yourself!  Congrats to Lonny and Traditional Home mags!  I love the premiere issue and look forward to many more to come!