So I stopped by Anthropologie today, one of my favorite places.  As I was walking around taking it all in, I realized that the new color palette was very similar to my inspiration in the desert.  Granted I know that I have Southwest on the brain, but it was everywhere, so I thought I would share my thoughts on Southwest design with a bit of inspiration from Anthropologie thrown in for good measure.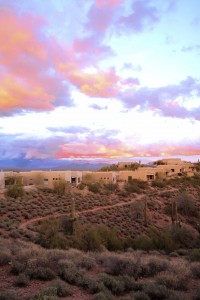 This is the view from my in-laws patio right before a thunderstorm rolled in.  The photos below from Anthropologie and Houzz feel so similar to me.
I love the beautiful orange, greens and desert tan in these outfits.
Who wouldn't love to have an icy margarita on one of these patios?  These great green stars and the brick remind me of the palettes above.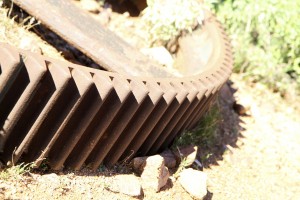 This is a great closeup taken by my sweet husband.  You will see many of his photos on this blog.  I think he is an amazing photographer!  Soon, I'm sure you'll be able to tell my photos from his!
Love this small vignette and how it picks up the brown, rust and greens from the closeup of the wheel.  This pot was so beautiful.  The photo really does it no justice. (This ones mine. See photo ref. above!)
This is one of my favorite AZ photos.  This is how I would imagine my Southwest inspired home to be.  Calm, cool and almost fading into the desert…
This dining room also reminds me of the wheel shot above. Can't you just imagine sitting at the table in front of the fire enjoying a meal and great company.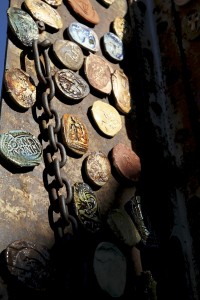 This is my favorite shot.  The colors are just so beautiful!
I love how this photo picks up the colors of the magnets above so perfectly.
The tiles represent the desert colors so well.
Again, you can see the colors of the magnets all in this photo.  And what about that chair!
Thanks for indulging my Southwest ponderings!  It's something I truly love, but really don't get to do to much of here in Atlanta.  What do you think?  Could you live in the desert?  Do you love the warmth of the natural color palette or is it just too foreign to you as it was to me when I first experienced it?  Love to hear your thoughts!