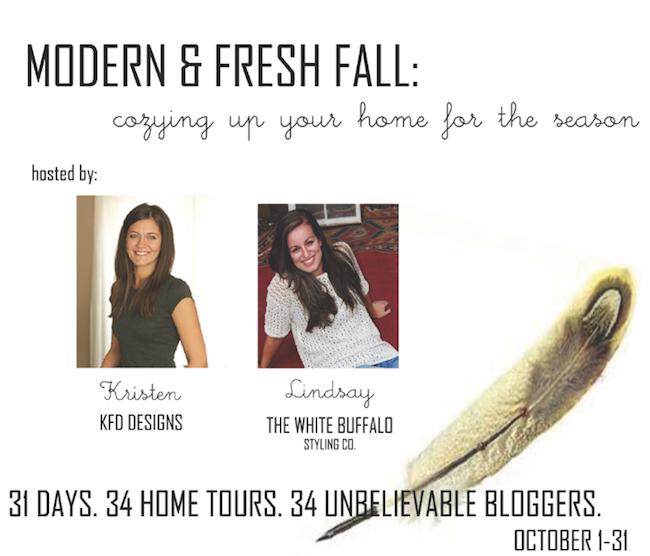 When Kristen and Lindsay contacted me about this fall home tour, I was thrilled.  Fall is one of my favorite times of year.  Crisp mornings, apple cider and cinnamon anything.  I'm not a huge holiday decorator.  It is one of the busiest times of the year for my interior design business and often times my home gets very little attention.  But this year was different.  Why?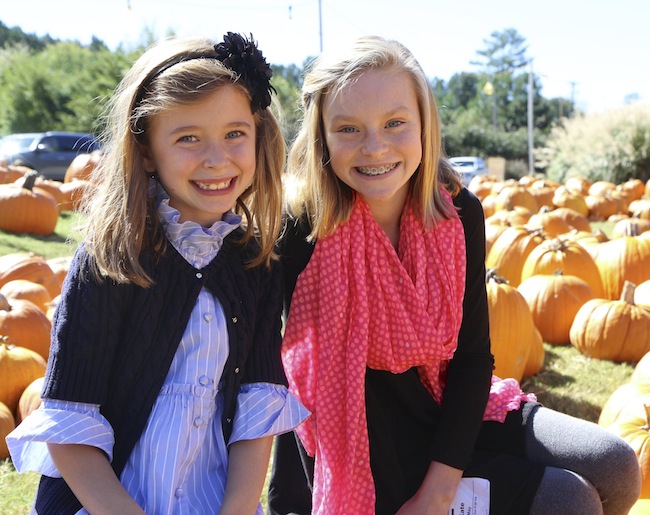 Because of these two.  This picture was taken at our local pumpkin patch where we have bought pumpkins for the past 9 years.  (Yes, since my oldest was only 1 year old.)  They loaded up pumpkins in all shapes, colors and sizes.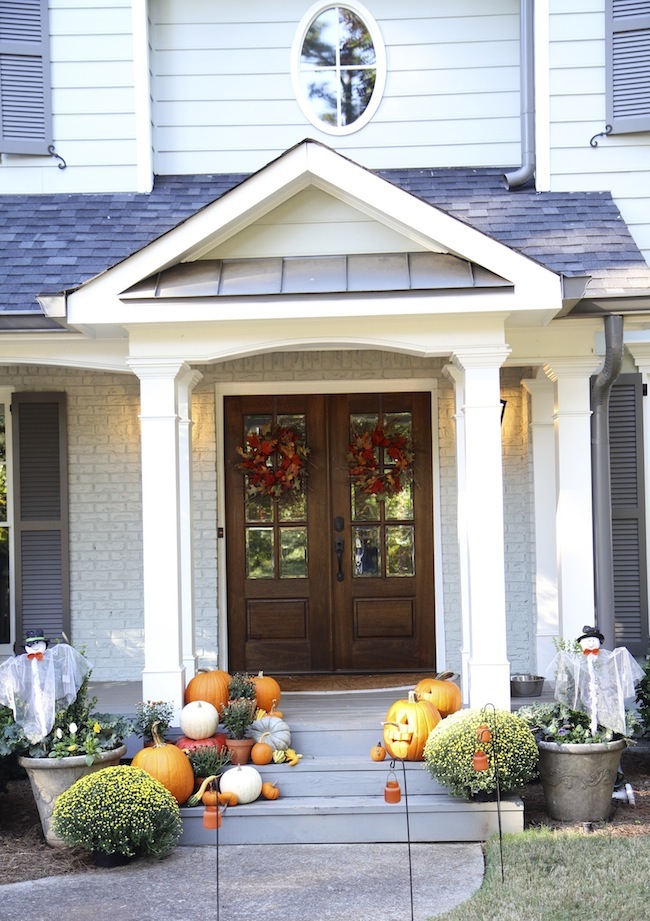 Here is what we ended up with.  Ok, I helped a bit with the presentation, but Eric and the girls handled all the carving!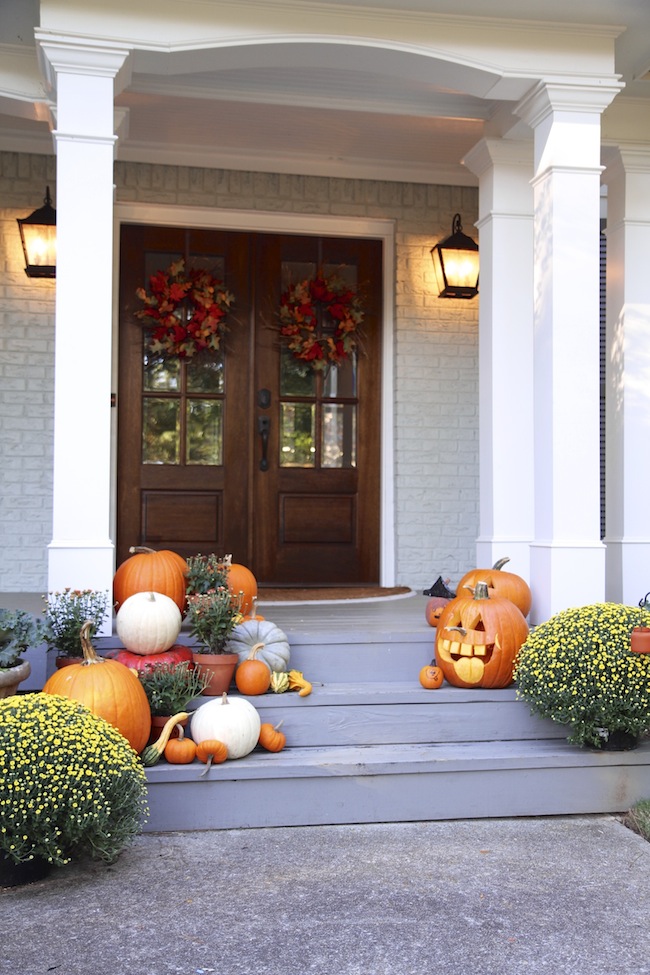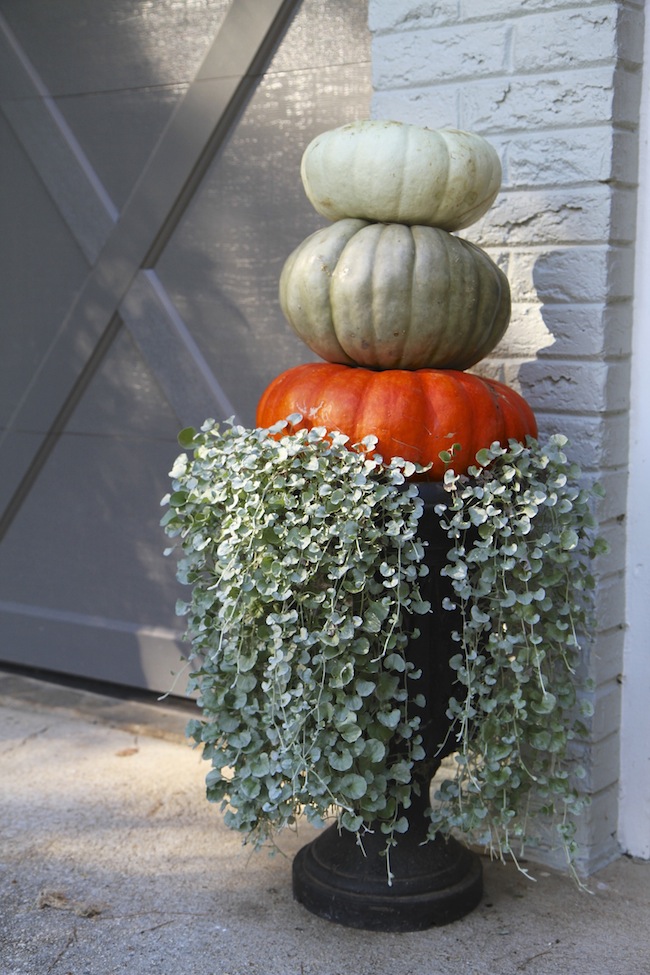 This is one of my favorite additions to our fall decor.  The vine is left over from summer.  Stack up the pumpkins and you're done!  My kind of holiday decor!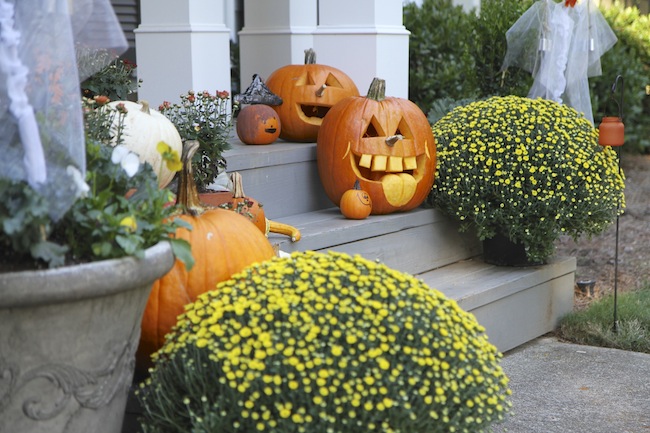 Don't you love the big teeth and tongue?  After it was done, my first thought was of Miley Cyrus, but to my girls she is still Hannah Montana, so I kept my comment to myself.  Ha ha!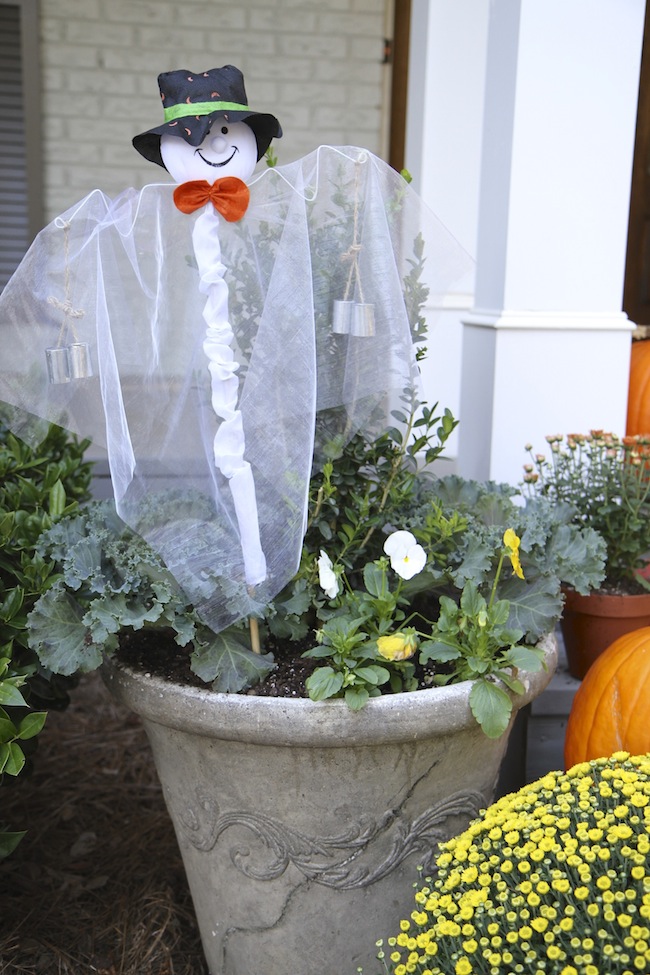 These fun ghosts are a great addition for Halloween and once the holiday is over, I can just pull them out and these pots will be perfect through winter.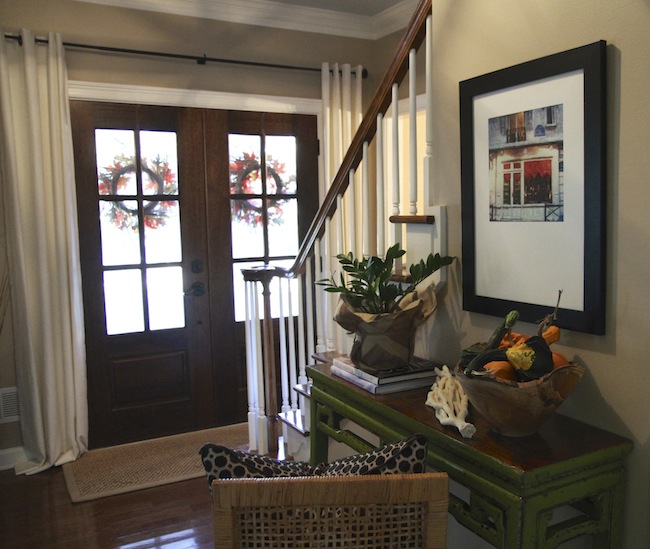 I keep things simple inside.  Fall's colors work well with my home's color palette.  I added a few gourds to one of my favorite bowls here.  I love the fact that I can keep this out through Thanksgiving.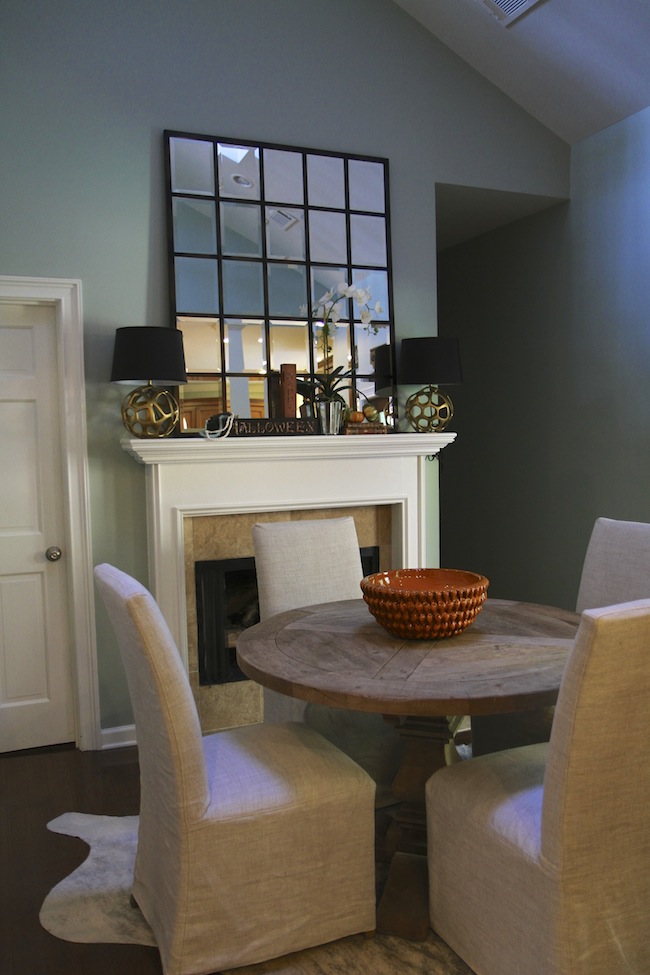 Love this cozy spot in our kitchen.  It's still too warm for a fire, but it won't be long…  By the way, check out next week's post and see what happens with that orange bowl on the table.  Doesn't it look like it's missing something?  I've finally figured out what to do with it and I'll be posting about it next week!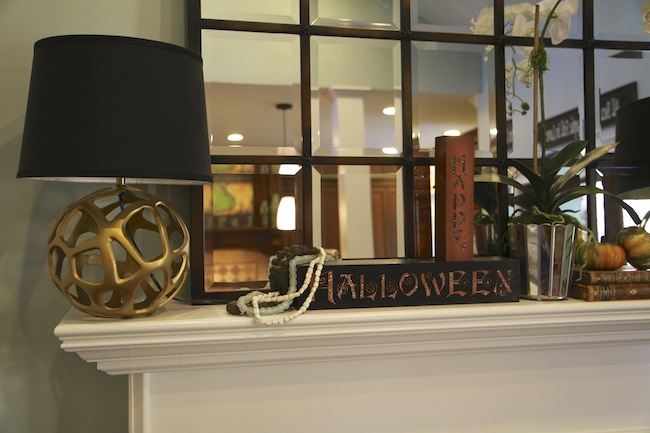 Simple Happy Halloween blocks and pumpkins add just enough of that holiday flair.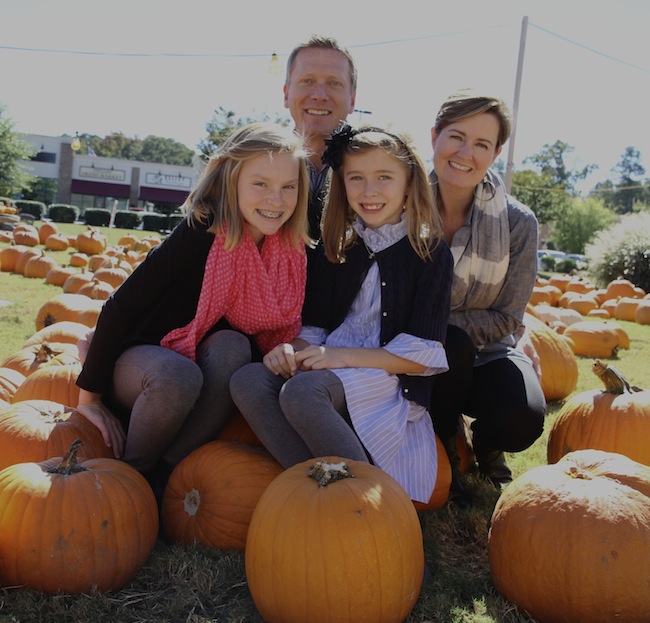 So, that's it for us this fall!  Thanks for stopping by and be sure and check out Jennifer's post tomorrow!
If you'd like to see all the posts from the Modern and Fresh Fall Home Tour , here's the list.  So much inspiration.  Crazy good!  It's definitely worth your time.
1 – Kristen from KFD Designs
and Lindsay from the White Buffalso Styling Co.
2 – Sarah from Sarah M. Dorsey Designs
3 – Gabbi from Retro Ranch Reno
4 – Brittany from Brittany Makes
5 – Jesse from Scout & Nimble
6 – Julia from Cuckoo 4 Design
7 – Carolyn from Sweet Chaos Home
8 – Jennifer from The Chronicles of Home
9 – Bethany from Dwellings by Devore
10 – Carmel from Our Fifth House
11 – Kristin from The Hunted Interior
12 – Anneke from This That & Life 
13 – Michelle from Décor and the Dog
14 – Cassie from Primitive & Proper
15 – Ally from From the Right Bank
16 – Shannon from Shannon Berrey Designs
17 – Danika from Gorgeous Shiny Things
18 – Kristin from Bliss at Home
19 – Jenna from Rain on a Tin Roof
20 – Jessica from Dear Emmeline
21 – Kelly from View Along the Way
22 – Sarah from Lacquer and Linen
23 – Eileen from A Creative Day Blog
24 – Sarah from Royal Marigold
25 – Lori from Lori May Interiors
26 – Jennifer from Dimples and Tangles
27 – Caitlin from Desert Domicile
28 – Sherry from Design Indulgence
29 – Lakeitha from Lakeitha Duncan Lifestyle Blog
30 – Shavonda from A Home Full of Color
and Whitney from The Curtis Casa.
31 – Angela from Number Fifty-three
and Jennifer from Brave New Home.