Hi all,
I'm back with a few things I've found this week and party pics!  But first, I want to thank you for your sweet and supportive comments from my Monday post.  I know we all get bogged down in the everyday things that we think are important and sometimes we have to slow down and consider what might be passing us by.  I feel guilty when I don't post on my normal M/W/F schedule, but I'm working on it.  Next week is spring break and I'm going to take a break myself.  I'll only be blogging on Friday and enjoying the rest of the week with my family.  I challenge you all to take some time for yourself next week too.
Now on to my weekly finds!  One of my first stops was Savvy Snoot in Marietta.  There are several locations across Atlanta and this shop is the newest.  It's a mix of new items as well as consignment.  You never know what you'll find!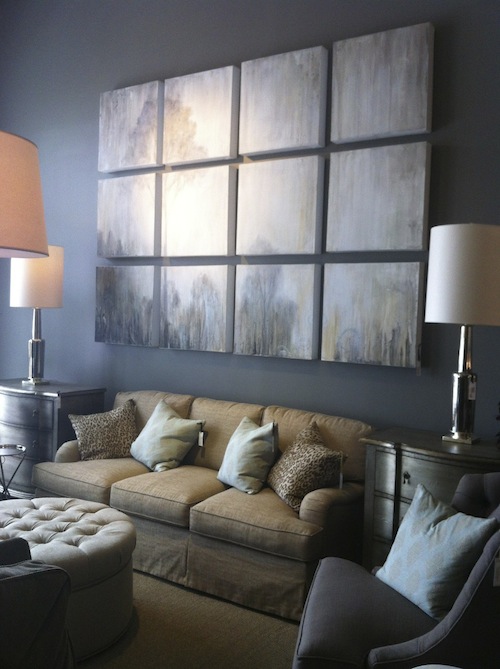 I could see this in my own home.  The artwork especially.  Can you tell how big it is?  The artist is Jason Scott.  I love it!  He is local and I'm hoping to interview him soon and share more of his work with you.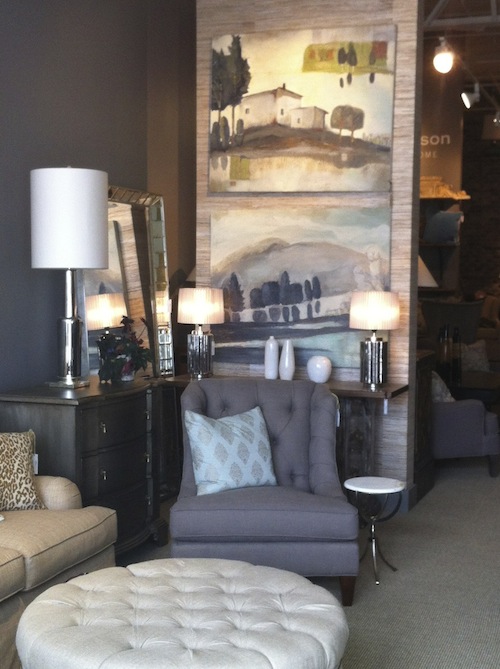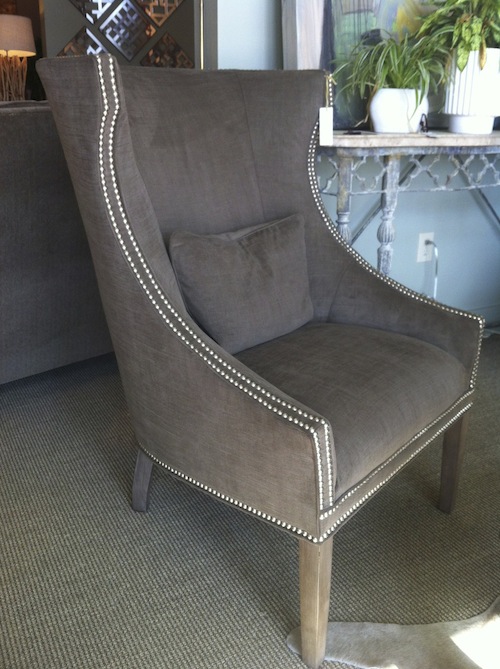 The color of this chair would work in so many settings.  It's a great piece to place in to a more traditional space to give it a fresh update.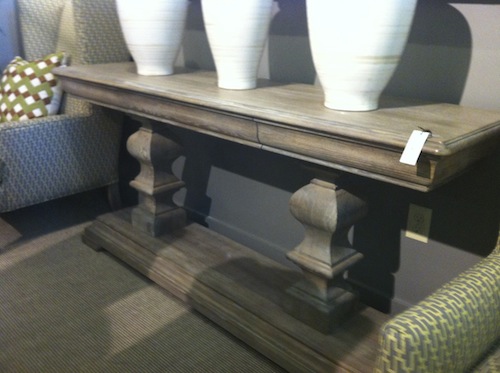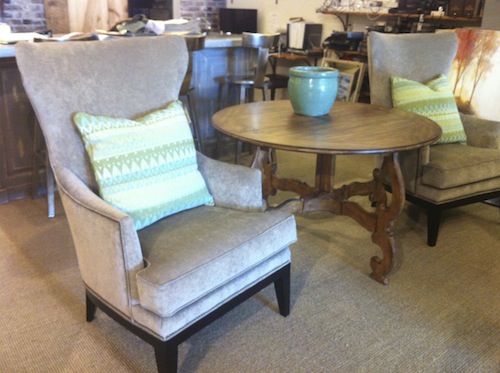 This is a great example of more modern chairs with a very traditional table.  Don't be afraid to mix styles.
On to Nadeau.  This little shop is my go to for quality accent furniture pieces at a great price.  This day I was really drawn to color.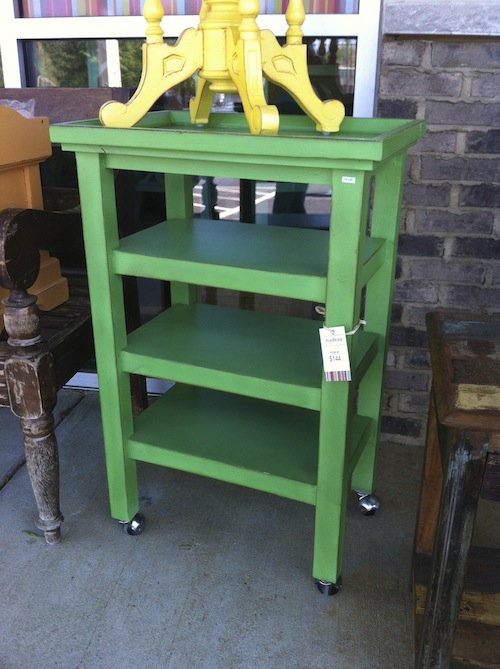 I'd love to use this piece in a small white kitchen or bathroom.  What a pop of color!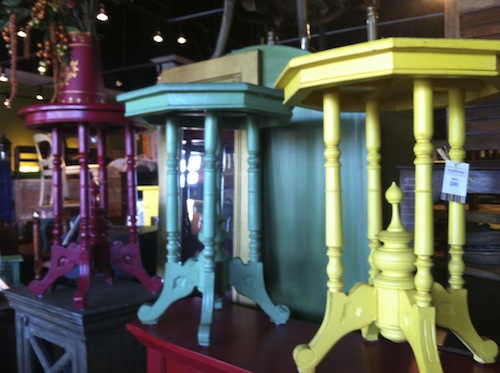 These little tables could work anywhere.  It also comes in white.  Love the detail as well.
I ended my week at a party for the High Rise High Style tour hosted by Mitchell Gold Bob Williams.  There are 6 different condos that have been decorated by 6 different designers.  All of the spaces were gorgeous.  The tour ends on April 1st, so if you're in the Atlanta area, it's definitely worth a trip.  All proceeds benefit the High Museum.  Unfortunately, I didn't get any photos from MGBW space.  There were so many people in the space, that I couldn't get a shot.  I did take a few in Kerry Howard's space.  Kerry is pretty famous around these parts and it was my first time to meet him.  You would think I had known him for years.  What a wonderful guy!  Kerry is also appearing on Design Wars.  His first episode has already aired and his second is coming up on April 6th.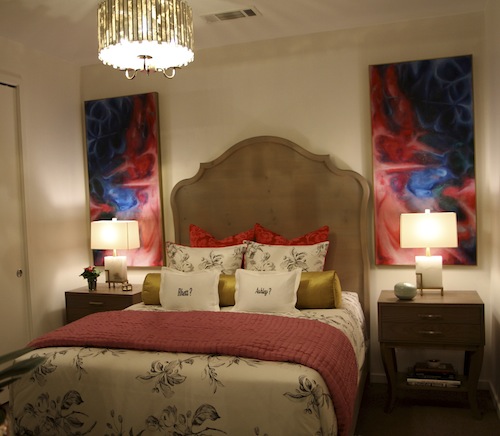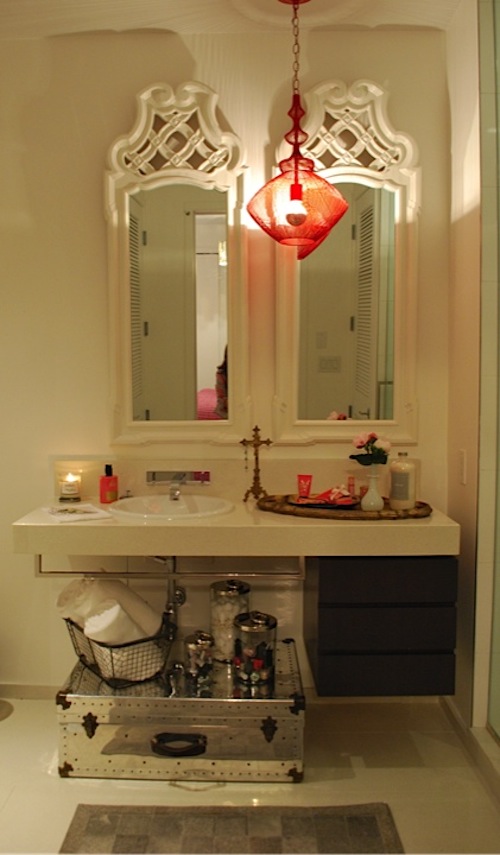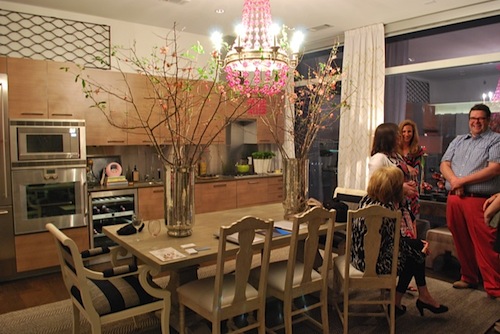 I love the color that Kerry has used in his space.  That's part of our group and Kerry is there in the middle.
Don't forget that my Design Wars episode is coming up on April 20th at 1pm.  It looks like there's a party in the works, so I'll keep you posted!
Have a great weekend and I'll see you next Friday!