Remember this project?  I posted my window seat inspiration photos here.  I've been working on this project for a client who wants to give her two little girls a more updated space.   Here's the design board that I put together for them.  My client had already purchased the bedding, so that was my starting point.  I went with a blue green for the walls.  The bright pink curtain panels will frame the window seat and create a secret hideaway for the girls.  I chose the dotted fabric for the window seat cushion and accent pillows to bring out the colors from the bedding.  One of my favorite parts of this space is the sparkly chandelier that will be hung beside each of the girls' beds. I love this option versus just using the standard beside lamp.
What projects have you worked on lately?  Love to hear from you!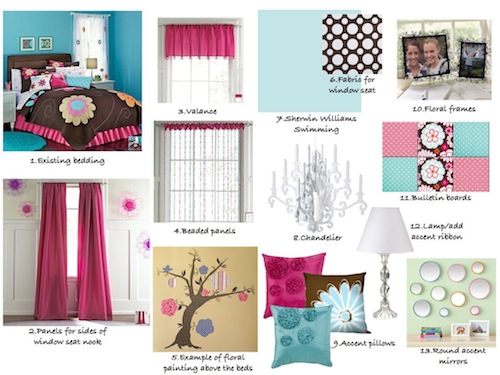 Have you bought your ticket for the first of it's kind DIY, blogger conference?  If not, you have to check it out here.  The Haven Conference will be held here in Atlanta next June, but there are only 250 tickets available.  It will sell out, so get your tickets now!
Have a great day!